What is Autism After 21 Utah?
Watch Utah Governor Cox in his PSA to State & Local Leaders
Autism After 21 Utah (AA21Utah) is a 3-year plus, first-ever statewide partnership comprised of the Beehive State's preeminent organizations, autism advocates, and industry leaders in all sectors. The goal of the collaboration is to prevent displacement, foster inclusivity, and ensure adults with autism—and their families— have a place in our communities. 
As we collect and share the best data concerning social determinants of health, best practices and common barriers throughout the state, we can speak with one powerful voice, leading the way towards a more inclusive future. The resulting statewide blueprint will help mobilize efforts in other states and provide an example for the nation to follow. 
HOW GREAT IS THE NEED?
Over the previous three decades, we have come a long way when it comes to early diagnosis and support for children with autism. When those children age out of federally guaranteed supports and services after age 21 however, adults with autism and their families are largely left to fend for themselves.
An estimated 2% of the population is on the autism spectrum. When we account for Utah's higher-than-average family size, it is estimated that nearly 9% of Utahns likely live with the realities that this population faces. That 9% is very aware of the gap in support, acceptance, and inclusion for adults on the spectrum and of the consequences and costs associated with the barriers and lack of opportunity within our communities. The Autism After 21 Utah initiative will help educate and mobilize the rest of the population to address a growing crisis.

In the absence of opportunity and support in adulthood, autistic individuals in our communities begin to lose the skills they gained in childhood, become increasingly isolated from community life and face mounting physical and mental health challenges. Most end up living at home with aging parents with few, if any, job opportunities. It is a devastating loss of human potential and fulfillment. 
Furthermore, as parents become unable to care for their adult children, many autistic adults living at home end up displaced, and sometimes even homeless, later in life. These poor outcomes can be mitigated as we work together to extend the care and support necessary for autistic individuals to thrive in adulthood. Our communities have much to gain by creating a place for adults with autism to participate and contribute.

AUTISM AFTER 21 UTAH STORIES
Watch these short films to learn more about the lives of Utahns with autism and their families
and how Utah communities are responding.
WHAT IS OUR GOAL?
Throughout the state, incredible work is already being done at the community level. Autism After 21 Utah aims to coordinate these efforts and share data across communities in order to speak with a single, powerful, data-driven voice that can expedite the removal of barriers and drive support to expand neuroinclusivity in our communities and throughout the great State of Utah.
The final goal of this 3-year pilot initiative is to produce a statewide blueprint that can be duplicated in other states. A collaborative statewide action plan holds so much promise for communities across the nation-  inclusive housing options increase stability, reduce homelessness, and lower healthcare costs. Supportive environments create pathways for valuable talents and skills to enter our workforce. Creating opportunities for social engagement and recreation improves mental and physical health and makes it possible to build on the investment made in schooling, therapies, and supports during childhood. Inclusive communities benefit all of us.
WHAT YOU CAN DO
Join us. Take a moment to register to receive AA21Utah updates, invites and action items.JOIN THIS INITIATIVE


Engage with us. Take time to read our monthly updates. Share with us your ideas, concerns, and potential partners. 

Spread the word. Invite others in your personal a professional circles to learn more and join the initiative.

Inclusive communities involve every sector

.
Read and share the findings and toolkits as they come out.
Join a Regional Working Group in your area.
HOW DOES THE FUNDING GET DISTRIBUTED?
Madison House Autism Foundation is currently funding the project with the generous support of The Larry H. And Gail Miller Family Foundation, The Brent and Bonnie Jean Beesley Foundation, Union Pacific, The Williamsen Family Foundation, and others. Below is a breakdown of the current funding. 95% of funds go directly into Utah programming and outreach, with the exception of some operational expenses (such as administration of finances). We will be seeking additional funding in the future in the hopes of expanding the project and funneling more financial resources to our Utah partners in order to increase the reach and impact of the project.
Current Breakdown of Funds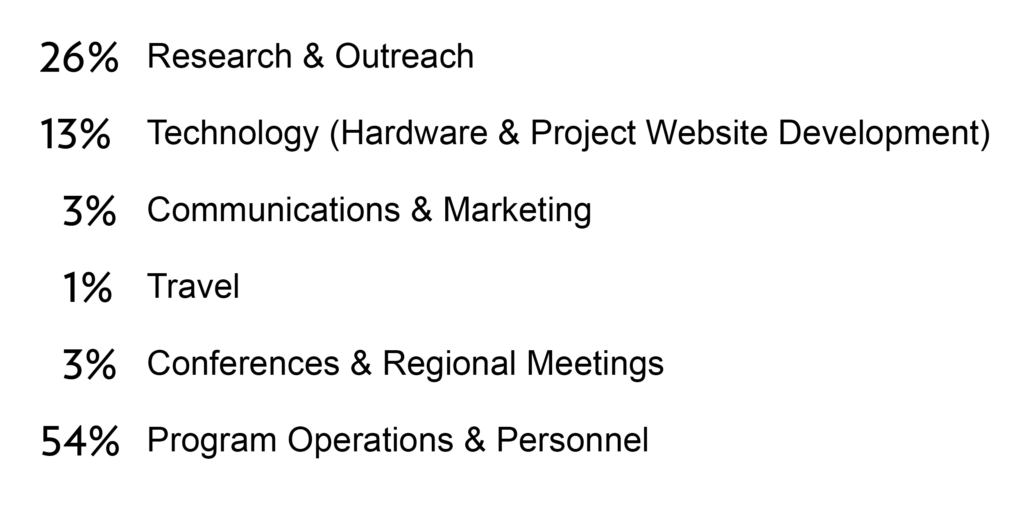 THANK YOU FOR YOUR PARTICIPATION