Organizations Across Salt Lake Area Compile Data on Housing Needs and Displacement Risk of Autistic and Neurodivergent Adults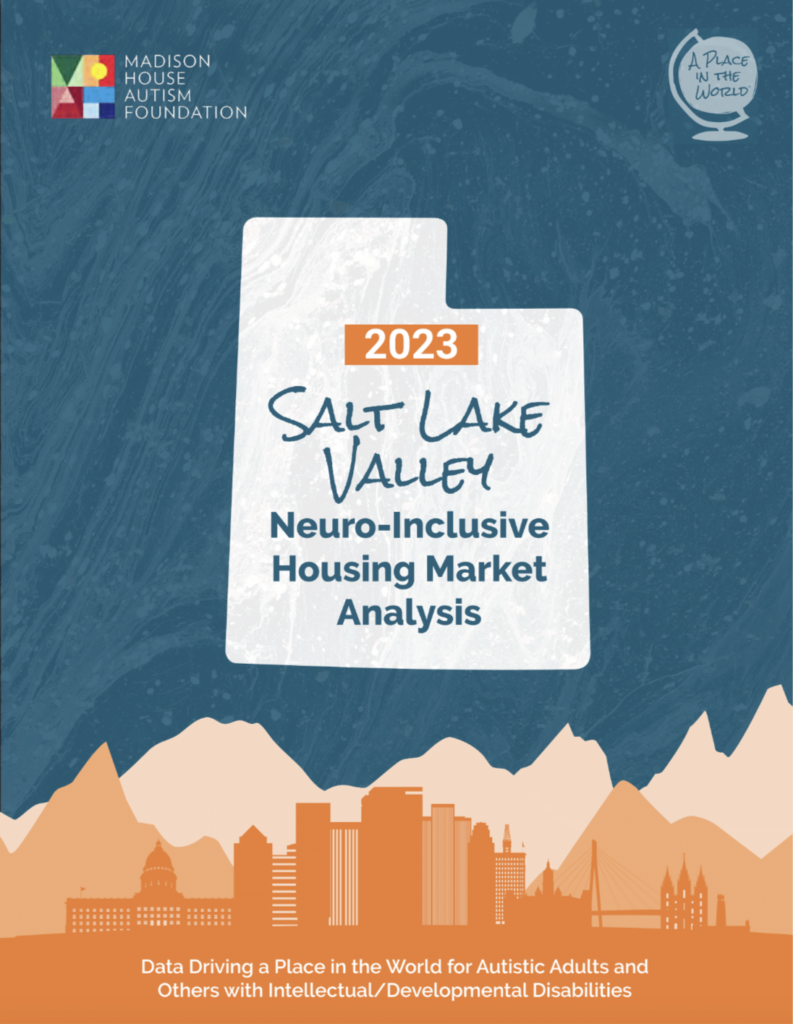 PRESS RELEASE
FOR IMMEDIATE RELEASE
Contact: Ann Carrick
Email: [email protected]
Website: madisonhouseautism.org
A coalition of organizations, called the Utah Neuro-Inclusive Housing Coalition, convened by Madison House Autism Foundation, have released a report on the housing needs of autistic adults and others with intellectual and developmental disabilities (A/I/DD) in Salt Lake Valley. The report addresses critical shortages in accessible housing for this population. Partnering organizations include Madison House Autism Foundation; Neuro-Inclusive Housing Solutions; Utah Department of Health & Human Service; The Larry H. and Gail Miller Family Foundation; Columbus Community Center; Utah State University Institute for Disability Research, Policy, and Practice; and others. This data can inform policy and guide strategic plans. It can also help organizations apply for funding to do more work in the housing arena.
The A/I/DD community is facing a crisis in housing and support services. The report estimates over 88,000 individuals with A/I/DD live in Salt Lake Valley. 15,000 of those are on the verge of homelessness due to living with a caregiver over the age of 60. The community faces ongoing barriers, such as lack of affordability and availability for supportive homes and services. However, data on their needs, as well as any following support strategies, have been limited.
Little research is available on the growing adult autism population in most areas of life. This data can lead to positive change. The organizations have joined forces to address this lack of data, working together to gather the information. Desiree Kameka Galloway, Director of Madison House Autism Foundation's Autism Housing Network, says, "Our hope is that public officials and community development leaders use it as a roadmap as the study offers direct insight into what Salt Lake Valley residents need and want."
In this study, project partners gathered data from nearly 400 disability self-advocates, family members, and aging caregivers. They also consulted with focus groups in the Salt Lake Valley homeless community. The team asked about current living arrangements, support needs, and housing preferences in multiple categories. For example, they found that the top five physical amenities preferred by respondents include: adaptable design, extra-durable features, security features, smart-home features, and pedestrian-oriented locations.
The report is part of a larger series of housing studies across Utah and nationwide, with the goal of reaching families and leaders in every community. The Utah housing research is also part of a larger project to pilot building inclusive communities across Utah for autistic adults. You can read the first findings report from the Autism After 21 Utah Project here.
Several more surveys will be conducted throughout the state. Many people will be interviewed to gain greater insights to address needs. Learn more about how you can participate here. Your voice helps to build more accessible communities and improve lives for autistic adults, other adults with I/DD, and their families.
---
The mission of Madison House Autism Foundation is to promote, model, and advocate for the full inclusion of adults with autism and their families in the life of our communities; and to expand choice and opportunity in housing, employment, and social participation.