When you notice a cute little girl with Down Syndrome in Target or a young man on the autism spectrum excitedly flapping his hands in GameStop, do you ever consider where these individuals will live in 30 years?
Only 13% of all citizens with special needs are supported to live outside their family home. There are 3.6 million citizens with intellectual/developmental disabilities (I/DD) who live with a family caregiver. But what happens when these individuals can or should no longer live in the family home. Here is a list of the current options:
If they can find affordable housing, a service provider can support their individualized needs in their own home.
They can live in a group home with other people who have I/DD that a service provider will operate.
They can move into another family's home, a host home, in an an adult foster care arrangement.
They may find themselves in a nursing facility, psychiatric ward or other institutional setting if no other option is available or can handle their support needs.
While the long-term support services (LTSS) system offers these options, most of the time there is little to no availability. In fact, most will find that waiting lists are years (and sometimes even decades) long to access residential supports. Our country operates in crisis mode, with families being told that keeping their grown children at home is the best option. A family must either have the money to pay privately, hire a lawyer to fight the state, force their loved one to become homeless, or wait and prove that they are in crisis or near death. The scarcity of housing also means that citizens with I/DD often have no choice as to where they will live and, in crisis, are forced to accept the "next empty bed."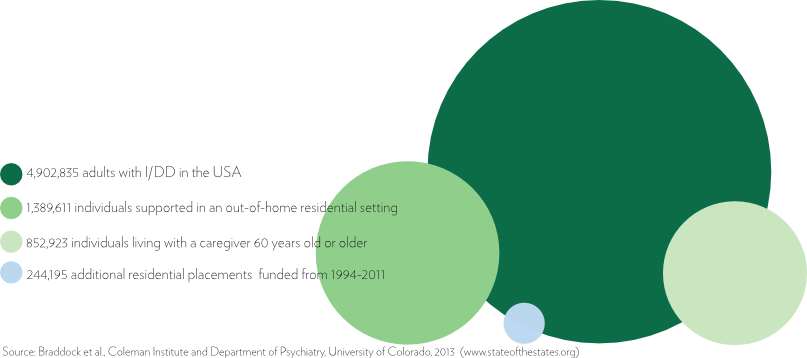 With aging baby boomer parents and the billions we pour into these students through the Individuals with Disabilities Education Act (IDEA), this outcome is unacceptable. Growth of residential supports nationwide has increased by an average of 14,000 individuals annually. One million people with I/DD live with a caregiver over the age of 60. What will happen when these caregivers pass away?
When most people think of public funding for "affordable housing", they don't think of people with special needs. Without access to affordable housing and other public assistance, individuals are forced into more restrictive settings or institutions that cost from $40k – 400k per year. Alternatives are possible. Moral arguments aside, investing in public assistance for this population is a wise financial investment.
It only takes one day for an individual's entire life to change. A single crisis could cause a person to go from living in the family home to cohabitating with strangers, being supported by people who don't know anything about them, and being forced to adapt to an unfamiliar schedule that someone else creates. The displaced individual may not understand why they cannot go home. With adequate public assistance, it doesn't have to be this way. Supports can be built around a person with their parents acting as a safety net instead of an emergency response to systemic failure.
(2016)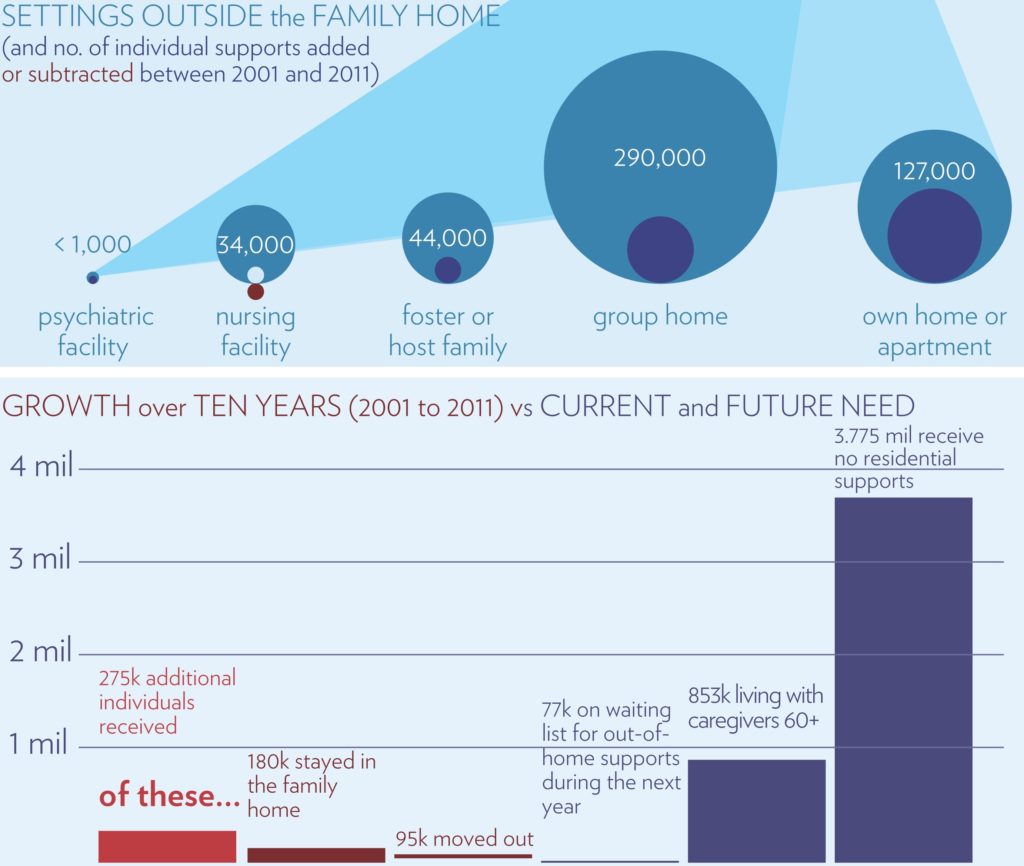 To address and prevent more crisis placements, local communities and parents are taking housing matters into their own hands but are facing barriers in attitudes, zoning, and healthcare regulations. The Autism Housing Network and other social media campaigns are giving these families tools to understand options and organize, but not every family will be able to afford to buy a house for their loved one. When thinking about who to support on #GivingTuesday or in other moments of charitable giving, please consider helping these life-changing innovators here.
Next time you hear someone speaking negatively about public assistance programs, you may want to share the needs of citizens with I/DD. Social security, affordable housing, SNAP (food stamps), Medicare and Medicaid are their lifelines. We can't let them disappear.
---
Join Us for a Facebook Live Discussion: "Public Assistance 101"
We hope that this article was helpful. For more discussion, please join us on Giving Tuesday, November 29th from 7:30-8:00PM EST on the Madison House Autism Foundation Facebook Page for a LIVE discussion on "Public Assistance 101." This is a great opportunity to learn and share, so please join the conversation! Until then, click here to sign up for the Autism Housing Network and receive updates about more exciting events.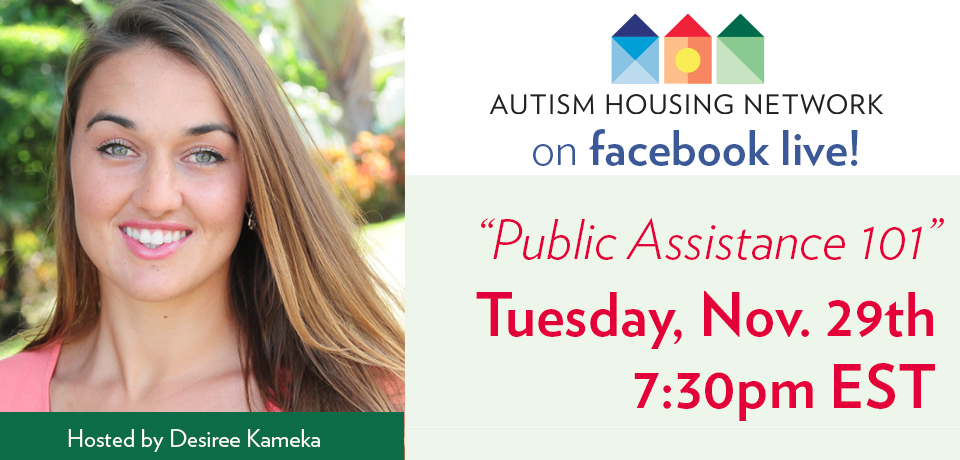 ---
DESIREE KAMEKA, DIRECTOR OF COMMUNITY ENGAGEMENT AND HOUSING NETWORK
Desiree's work focuses on researching housing issues, advocating for autistic adults and their issues, and presenting her work at local and national gatherings. She visits many residential communities and social enterprises across the USA and highlights their unique victories and learning curves while sharing stories of residents with autism and other developmental disabilities. Desiree is also the project lead for Madison House's interactive Autism Housing Network. Her passion is empowering autistic adults and parents to create a future that is exciting and life affirming by offering small group consultations for forming projects.