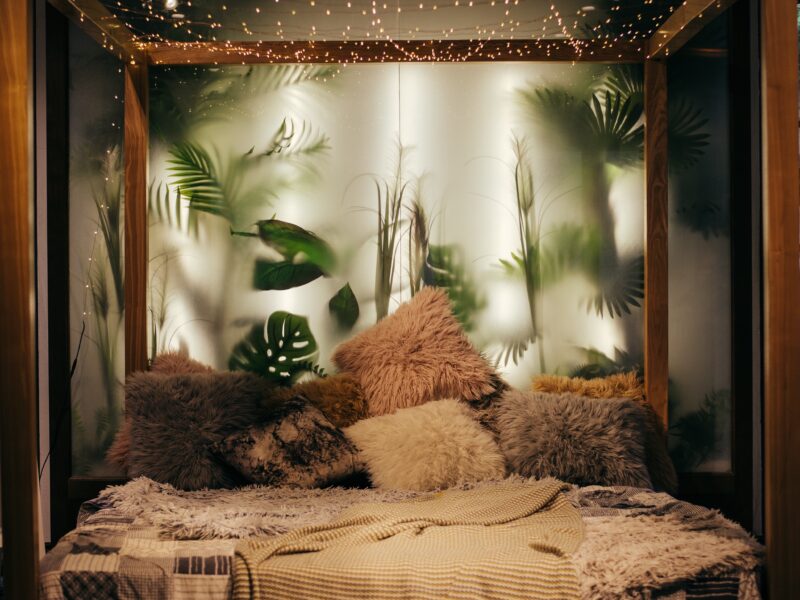 Everyone deserves a space where they feel safe and calm. For individuals on the autism spectrum, that space can be critical to wellbeing. Many autistic adults face challenges that make settings overwhelming or hard to understand. These challenges can bring feelings of stress in response to different senses. For example, bright lights, people talking, music playing, and scratchy surfaces can all be difficult. For others, satisfying their senses can be hard, and they seek out certain smells, feelings of deep pressure, or certain sounds. Each person has their own unique sensory needs. However, each person that faces these challenges will benefit from a private space that fits their unique needs.
Learn more about the different sensory challenges through the Autism Services, Education, Resources, and Training Collaborative (ASERT).
Having a private space where no one will bother you is also important for those who have faced trauma, and autistic adults have a higher probability of trauma than the general population. Trauma programs will often encourage clients to create a safe space to help the brain move out of high alert mode. Creating a private sensory area at home is a perfect way to both address sensory needs and create a safe space for yourself or a loved one. And the best part? It can be done on whatever budget you have, whether it's creating a cozy corner with a sheet tent, soft blanket, and pillows or converting an attic space into an all-out, noise canceling, sensory heaven. Read below for tips on how to create your space.
Involve the autistic individual
The first tip for creating a sensory safe space is to include the autistic individual in the planning process. If you're designing the space for yourself, then you're already there, and you can skip to the next tip! If you're planning a space for a loved one or friend, then be sure to get their opinions along the way if they are able to communicate (Note: If they have trouble communicating, look at what they are drawn to). Have them pick out the colors that help them feel calm. Get their opinion on different fabrics. Ask them what senses are overwhelming to them. Find some tools together to provide in the space (maybe noise-canceling headphones or a slow-moving lava lamp). After all, the space is for them. A surprise at the end may not go over well.
Sensory space location
The best location for a sensory safe space is ideally closed off from others. It is away from too much sound and light. Depending on the space you're working with, this is not always possible. In that case, work with what you have. The main idea is to create a private space that is dedicated to calm sensory support. Here are some ideas:
Clean out a closet to convert it into a mini safe space. Try adding a few shelves elsewhere to store the items that were in the closet. Add a small bean bag chair or some pillows and blankets.
Clear out a corner of your (or your loved one's) bedroom. You can section it off with curtains or a room divider (there's even thick sound-blocking options). You can even grab a sheet and create a low-budget sheet tent fort. If you're using a sheet, you can use furniture, rope, hooks, clips, or whatever you need for your space.
Convert an extra bedroom or attic space. This option is for those who have some extra space to fill. If using an attic, be sure to make sure the space is cleaned out from creepy crawlies and converted into a clean, low-stress spot.
Consider all sensory aspects
Write down what is important for you (or your loved one if creating the space for someone else). Here are some areas to consider:
Visual. Is the lighting too bright? Consider adding shades if there is a window and add a small lamp or two, string lights, or a dimmer if you have the budget. Consider what colors would create a sense of calm (for walls, fabrics, lamps, etc.). Also consider art or objects that would help to bring a sense of visual calm, such as slow-moving water or bubble art (lava lamps are great for this) or a galaxy light projector.
Sound. If the room cannot be closed off to the sounds of others, consider providing noise-canceling headphones. You can also add a flip sign on a door to show others that you (or the individual) need quiet time. Perhaps work out a system where someone can slide a note under the door if something needs to be communicated (or whatever works for the household and the autistic adult). Consider having a music player in the space or an instrument. Think about what you (or the individual) might need for soothing support.
Smell. Make sure the area is clean and there are no lingering scents. Sometimes even good scents can be uncomfortable. If creating the space for someone else and you are unsure, ask them. Also consider if there is a scent that would help to bring a sense of calm (like lavender or vanilla). Again, this depends on each person's own needs.
Touch. Consider adding soft fabrics, fidget toys, cushioned seating, and beads or sand to sift hands through. If deep pressure is needed, perhaps add a weighted blanket or a body sock.
Resources for sensory tools
As the internet has grown, access to sensory tools has become easier and easier. The Autism Community Store has a section for sensory rooms. They have a variety of items, such as calming light projectors, stim toys, body socks, and more. There are also product suggestions from an autistic adult here. Whether you're looking for something specific or browsing for ideas, there is no shortage of resources online.
Resources for when you're traveling
Taking trips can be stressful for anyone, but they are often especially so for autistic adults. The unpredictability, the loud airports or train stations, new smells, uncomfortable surfaces and lights, and the removal from the setting they've gotten used to handling – that can all be extremely overwhelming. Luckily, there are a few resources you can use.
Airport sensory rooms. More and more airports are becoming more inclusive by creating sensory safe spaces of their own within the airport. Seattle-Tacoma International Airport, for example, created a sensory space with squeeze chairs and rocking chairs, dimmable lights, a starry night ceiling, and acoustic paneling. Other airports with sensory rooms include Portland International Airport, Indianapolis International Airport, Hartsfield-Jackson Atlanta International Airport, Myrtle Beach Airport, and Pittsburgh International Airport.
Bring sensory tools with you. Consider packing fidget toys, a small square of soft fabric (you can often find samples at craft stores), headphones, calming music, or a coloring book. Think about what works for you (or your loved one).
Decide the quiet time code. Before leaving on the trip, set up a word or signal within the family or traveling group that means everyone provides 30 minutes of quiet time for that individual. This is especially important if there is no separate space available for you (or your loved one) to be alone. A sensory safe space doesn't always have to be a location – it is a setting you create, even if it can only be temporary.
Whether you are creating a safe space location or planning for creating safe spaces while traveling, there are tools that can help. You can read more tips from an autistic individual's point of view here. If you're looking for a project for the new year, this is a great one for setting yourself up for wellbeing or for supporting a loved one. They will definitely appreciate the support.
---
By Ann Carrick, Communications Manager
Read more about Madison House Autism Foundation and our current projects.