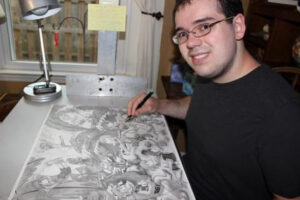 JEREMY FLOERCHINGER is a talented visual artist on the Autism Spectrum. Best known for his family friendly art, comical characters, witty sense of humor, and his ability to draw characters in under 14 seconds. He's been captivating his audience since he was two years old. His artwork ranges from simple sketches to detailed drawings. These days he prefers to spend his day on his Wacom Cintiq drawing tablet creating digital art. Jeremy enjoys drawing with fine black marker and graphite and has also found a passion for alcohol ink. He's illustrated two children's books, "Ocean of Dreams" and "Hello Mr. Tuna" and has more in the works. Many of his drawings are a part of "Jeremy Adventures" where his characters, "Super Jeremy and Friends" can be found taking adventures and exploring the world.
He's passionate about what he does and when looking at his work one cannot help but smile. He's inspired by Disney's Nine Old Men and Dr. Seuss. Also, finding inspiration in cultures around the world. Enjoying their clothing, architecture, dancing and music.
Jeremy hopes one day to create 2D animated movies and create a coloring book app so people around the world can enjoy his work. He dreams of becoming a 2D animator, an entrepreneur, as well as continuing to be an artist, illustrator and cartoonist.
Be sure to follow Jeremy on Facebook and Instagram and check out more of his work at Floerchinger Studios.
Selected Work