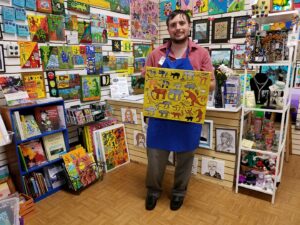 BRANDON DRUCKER was born in Miami Beach, Florida. He became a professional artist at 18. His art can be described as whimsical Fauvism. His work is the product of unfiltered, fragmented, non-linear thoughts that get trapped in his mind. Often, Brandon chooses imaginary animals and places as subjects.
Brandon's art communicates how he sees the world around him as an individual on the spectrum. His popular series, The Combo Cities, is a visual representation of how he interprets the similarities of places, and cities.
Additionally, artist Brandon Drucker likes to learn about different cultures and languages. For example, he taught himself Spanish as a second language and has even created several of his own languages.
Brandon's art and life story is featured in several books, magazines, hotels, an award-winning calendar, doctors offices and retail stores, and on The Autism Channel.
Be sure to check out Brandon's website and browse his collection at Fine Art America!
Selected Work