According to a study, more than 3.5 million Americans live with an autism spectrum disorder (2017). One concern of adults who are personally living with autism is the ability to convey their specific needs in the event of an accident or emergency.

Emergency medical alert bracelets ensure that symptoms of autism, such as difficulty communicating and repeated actions or ticks, are not misdiagnosed by medical professionals. Wearing a medical ID clearly defines that these symptoms are linked to autism and that they are not caused by the medical emergency especially when time is of the essence. Thus, wearing a medical ID helps avoid unnecessary tests, long hospital stays, and can even save a person's life.
Four Things to Consider When Choosing the Right Medical ID 
1. What to Engrave
The first step is to identify the most important medical information to include in your medical ID. Apart from autism, other conditions such as food allergies or diabetes can be engraved on a medical ID.  It'll also hold your emergency contact's details whether it be a loved one or an attending physician. For example:
Name: Jasper King
Medical conditions: Autism, Peanut Allergy
ICE: Janet 510-462-1172
2. Wrist Size
Medical IDs can be easily ordered online by providing your wrist size. The right way to do this is by using a measuring tape and adding 1/2 to 1 inch to match how fitted you'd like your medical ID bracelet to be. Medical ID necklaces with a variety of chain sizes are also available.
3. Age and Lifestyle
Nowadays there are large selections of medical IDs to choose from. Start by choosing the type of medical ID that will fit your lifestyle or employment. As an example, a person living with autism and is working as an IT professional may prefer a classic stainless medical ID to go with workplace attire. Someone working in common trades like carpentry or plumbing may prefer light weight curb chain medical alert bracelets.
4. Personal Style
Last but not the least, choose a medical ID that you'd be proud to wear. Remember, a medical ID jewelry is something you'll need to wear consistently for your own safety and peace of mind. Enjoy wearing it by choosing a medical alert that fits your personal style. Look for style categories like classic, modern, urban, rugged, and vintage among many others.
Refer to this handy image when choosing your medical ID and continue below for a special discount.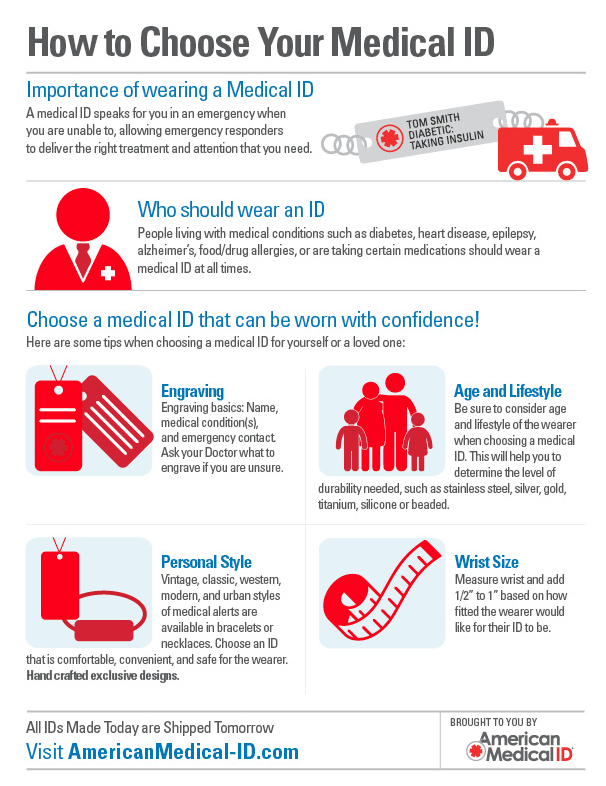 95% of emergency respondents check for a medical ID. Medical ID jewelry is a simple & effective solution that can bring safety, security, and peace of mind for adults with autism and their families – regardless of which spectrum an autism belongs to. In addition, medical IDs allow wearers to advocate for their own health and safety while raising awareness in their own community.
Get 10% off Autism Medical IDs
American Medical ID has partnered with Madison House Autism Foundation to provide members with a special 10% discount on all our medical IDs. For every purchase, American Medical ID will also give back 10% to MHAF to support the organization. Part of American Medical ID's advocacy is making medical IDs more available to those who need them most.
Enter code MHAUTISM upon checkout to receive special 10% discount (5% on 10kt 14kt gold) plus a 10% donation to Madison House Autism Foundation. You may also follow this link to receive your special discount.
---
Author: Lace Llanora, American Medical ID