Tiny home skeptics are asking, "Who would ever want to live in a 350 square-foot space?" As evidenced by the 40,000 attendees of the last Tiny House Jamboree in Colorado Springs, a lot of people! I am a host home provider and attended the Tiny House JAM with my roommate, Daniel, who is working on skills to one day move out on his own. We walked around and toured the 50+ Tiny Homes that were showcased at the event, and he helped me put together this list of reasons why Tiny Homes could be a great housing option for people on the autism spectrum:
---
Reason #1: A Tiny Home is an affordable homeownership option.
We live in an area where rent for a one-bedroom apartment is at least $1,000 and renting a room is $600 plus. Therefore, Looking at homes that Daniel could own in under 5 years paying the same amount in "rent" is very appealing to him. Without family to fall back on and living on an extremely low-income (approx. $750/mo), an eviction would easily put him in crisis. Daniel would not have enough money to put down first month's rent and a deposit. Without the burden of rent or landlords, a Tiny Home could help Daniel create a future of financial stability, full control of his housing and service providers, and freedom from the risk of homelessness.
We toured Tiny Homes that range in cost from $20,000 – $120,000. You can check out over 3,000 Tiny Home listings here or even build your own! How would your life change if you no longer had to pay rent or a mortgage?
My roommate, Daniel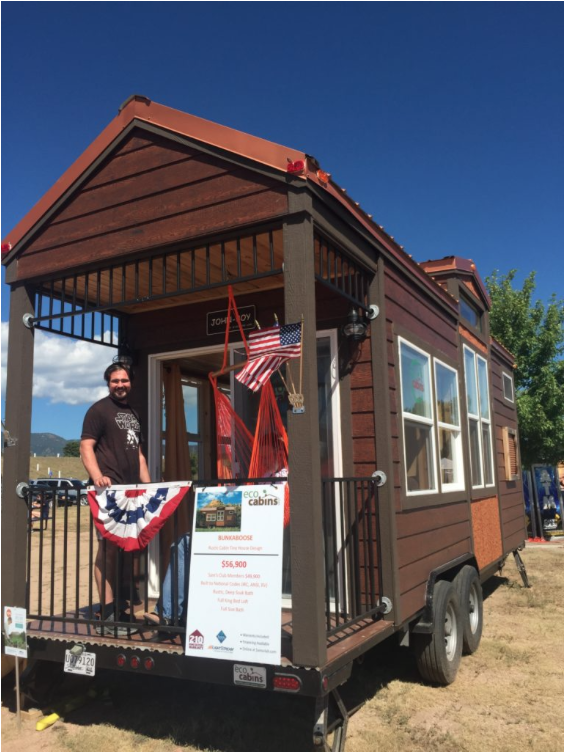 Daniel posing with an Eco Cabin ($56,900)
---
Reason #2: A Tiny Home can offer gradual steps towards independence on family property and then generate future income.
Similar to adding an accessory dwelling unit or GrannyPod, the more affordable Tiny Home can be placed on the same property as one's family home. For many, including Daniel, the thought of moving out and being on one's own is scary. This option allows an individual to have his own home, with all of the privacy that that entails as well as the peace of mind that someone right next door can help in case of an emergency.
Thinking beyond the present, if the property is owned by the family and will not be sold at the passing of one's parents, the family home can be rented for income and/or offered at reduced rent in exchange for additional supports to the person living in the Tiny Home. On the flip side, if the person living in the Tiny Home wants to move into the family home with friends or a life partner, he can rent rooms in the larger family home as well as rent the Tiny House to someone else. This income will not jeopardize an individual's' SSI as long as it is deposited into an ABLE account.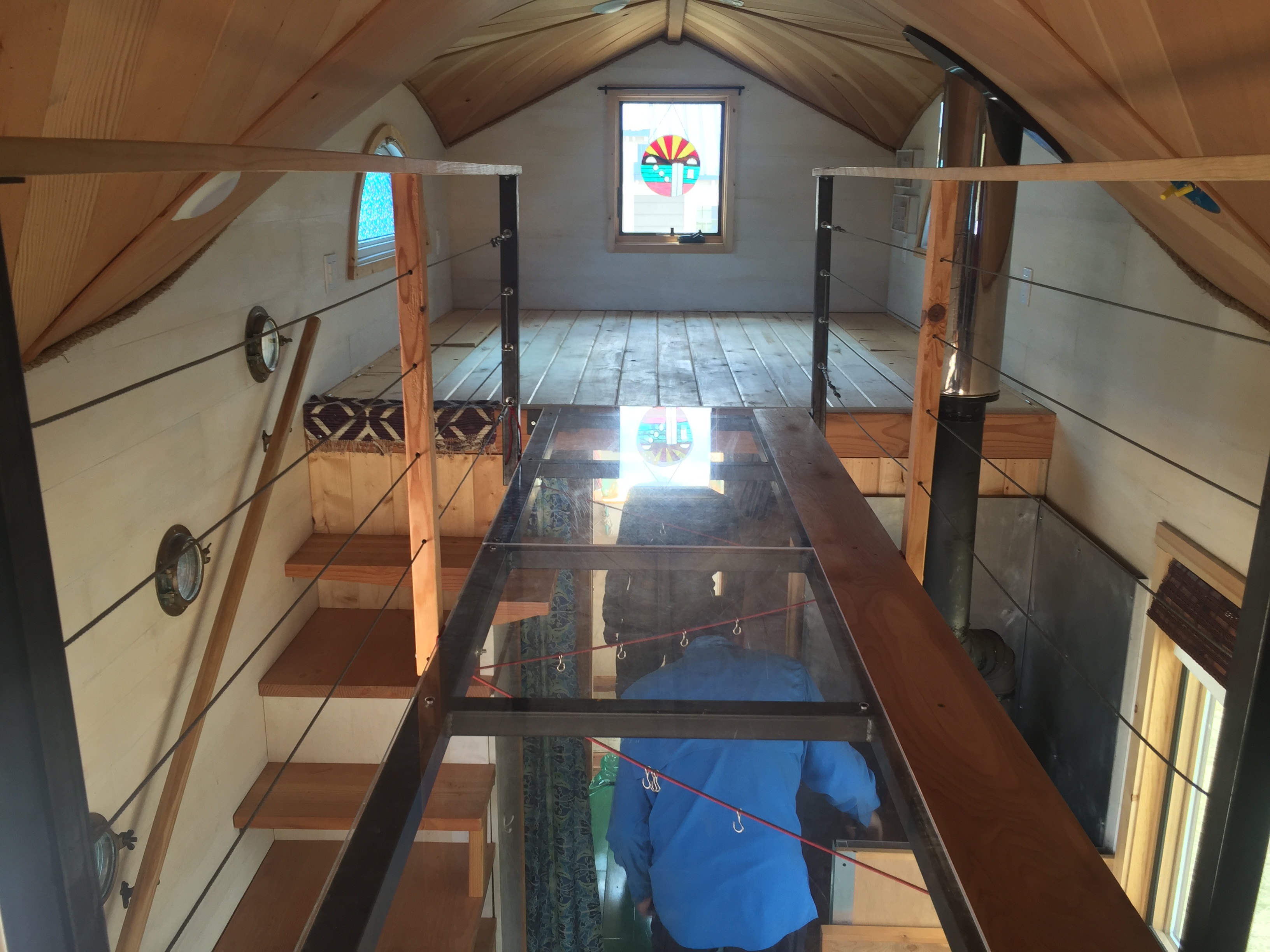 Inside one Tiny Home's loft space
---
Reason #3: A Tiny Home can be designed to your adaptive needs and interests!
Besides using the latest sensory-friendly design elements and smarthome technology, you can incorporate the features that would make it uniquely yours. Maybe add a crawl-into nook, complete with blackout curtains, a weighted blanket, your favorite fidgets and soothing visuals on an LED screen that can be changed to match your sensory needs. Or maybe you have the most amazing collection of crystals and geodes. Your Tiny Home can be designed to show off and store your most treasured items as stylish decorations.
Tiny Home Tours – Video Edited by Nick Lee
The entire layout of the home can be geared towards getting ready in the morning and walking out the door. For example, your bedroom can be on one end of the Tiny Home, and you must walk through or past your closet, which is sequenced to how you like to dress, and uses whatever visuals prompts you may need. It leads into the kitchen where the first thing you see is your breakfast cabinet containing your favorite breakfast foods. You then grab a Capri-sun from the fridge and sit at your table that faces the front door and bathroom. After 10 minutes, an alarm goes off on your pill box in the bathroom. You take your vitamins and see your toothbrush on the sink, remembering to brush! As you look into the mirror, the Superman sticker reminds you to style your hair like Clark Kent and grab your bag before walking out the door.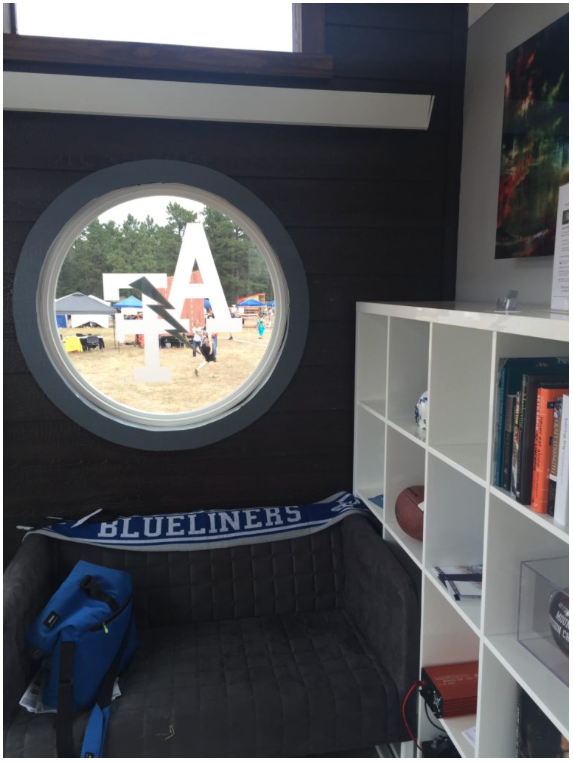 This Tiny Homeowner is a football fan
---
Reason #4: A Tiny Home is easy to maintain, financially cost-effective, and helps control impulse buying.
To my surprise, this was the first thing Daniel mentioned he liked about Tiny Homes! With a small space, there is less house to clean and keep tidy, which also means less space to fill with clutter. That small pile of books next to the bed can only grow so much before you are forced to put them back on the shelf as to prevent yourself from stepping on them. And a small sink of dishes is much less intimidating than a double-bucket sink full of dishes. A small space means no need for larger cleaning supplies like a vacuum, less furniture to buy and clean, less clothes to choose from and thus increased pressure to keep a weekly laundry and cleaning schedule that can quickly be completed.
With so little square footage, costs for electric to heat or run an AC is minimal, especially if the tiny home is designed to be energy efficient. Tiny homes can be built on a foundation like a house, designed to hook up to water and electricity like an RV, or can be completely self-sustaining for those desiring an off-grid lifestyle.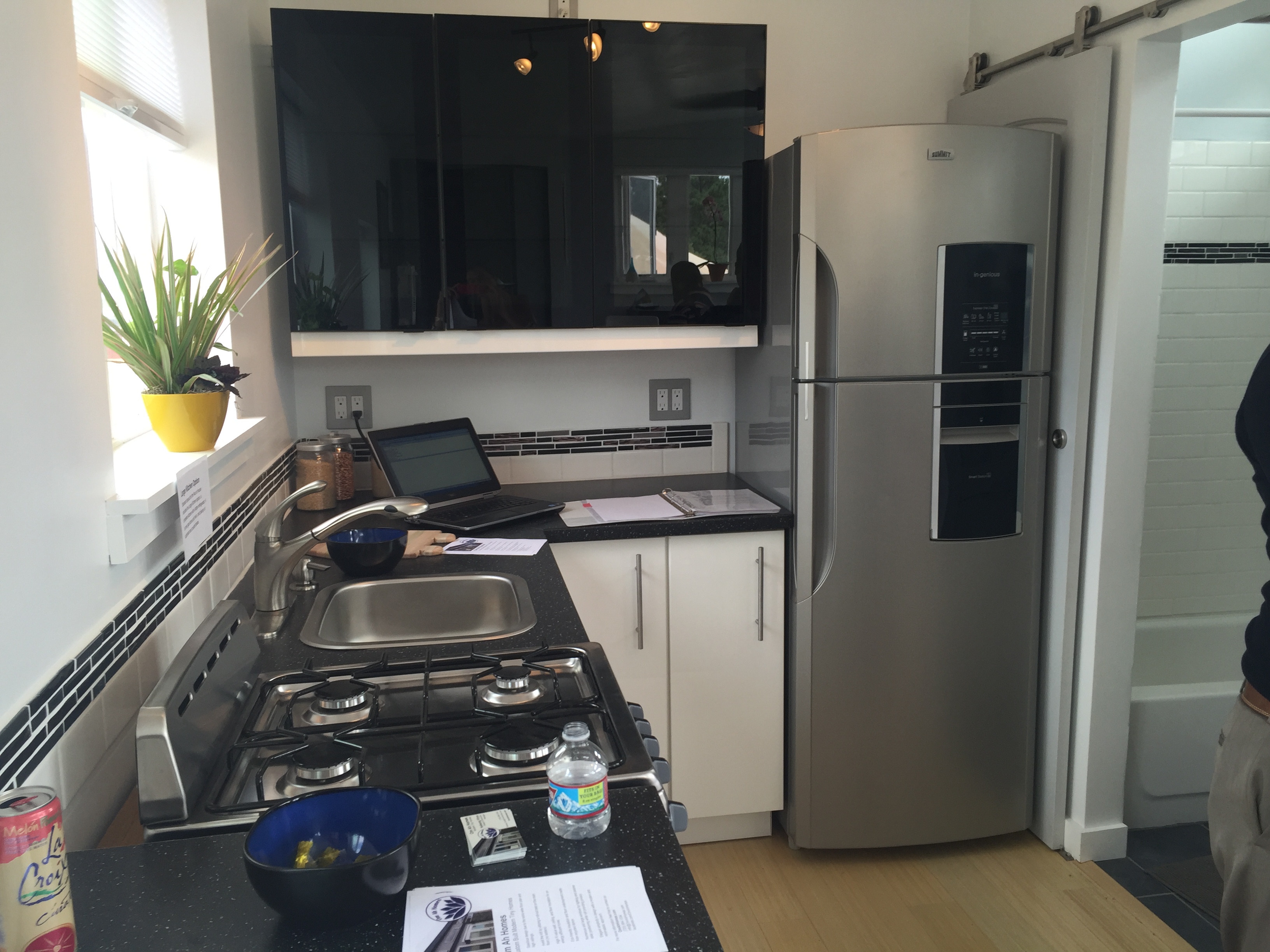 Inside a modern Tiny Home
---
Reason #5: A Tiny Home lets you choose your neighborhood or work from the road!
Many Tiny Homes are built on trailers. Not only does this sway some zoning regulations, it also enables your home's mobility. For artists or professional speakers on the spectrum, instead of leaving your home to fly and stay in a motel for 4 days, your home could instead travel with you. Plus, staying with friends or at a Harvest Host site is free! Watch the interview below with Tiny Home Jamboree attendee and autistic adult, Stan Baldwin. As a small 3D printing business owner, Stan sees benefits in the mobility and freedom that Tiny Homes offer.
Interview with Stan Baldwin, Owner of 3D-PT – Edited by Nick Lee
Tiny Homes are also beneficial for those who want to live in a non-urban or suburban area. There are very few affordable rural housing options for a single person. Finding an affordable small 1- or 2-bedroom house on even just a few acres of rural land is nearly impossible to find. Land has generally been developed for working family farms and ranches, not single individuals trying to escape the hustle of the city! But if someone lived in a Tiny Home, they could bring their housing with them while looking for agricultural job opportunities. Websites like WWOOFING USA will let you trade work for room and board, and some even offer a stipend.
Darla, founder of Tiny Homes by Darla and mom of an Aspie, is looking for a property to build a Tiny Home Village where her son and his friends can live next to each other instead of relying on the affordable housing market. When her son decides he wants a change- maybe to live closer to his brother (who is still too young to know where he will land in the job market) – he has the freedom to take his home with him!
---
Tiny Homes might not be for everyone, but for those who want to explore this option further, check out the "Tiny Homes/Accessory Dwelling" filter in the AHN Resource Directory, and join the Tiny Home conversation in the AHN Discussion Board. In addition, on Friday, August 29th from 3:30-4:00PM EST, will will be holding a Live Facebook discussion about Tiny Homes on the Madison House Autism Foundation Facebook Page. This is a great opportunity to learn and share, so please join us with your questions and insights!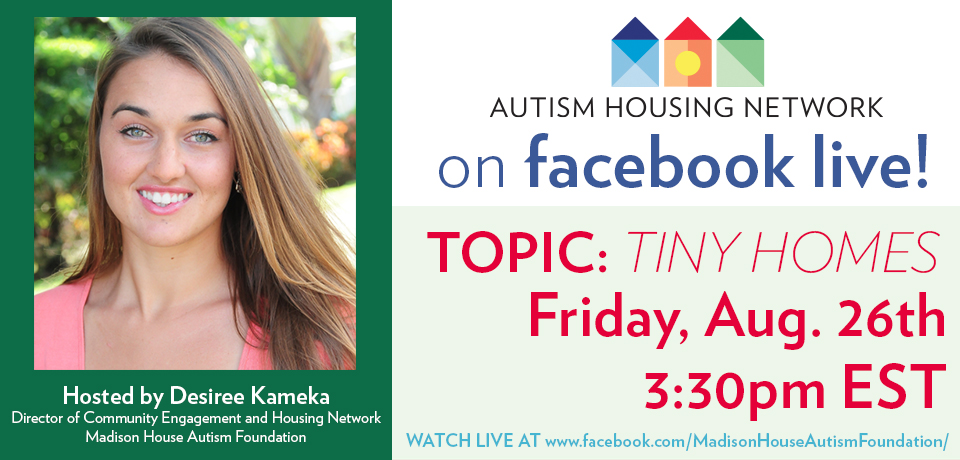 ---
About the Author
DESIREE KAMEKA, DIRECTOR OF COMMUNITY ENGAGEMENT AND HOUSING NETWORK
Desiree's work focuses on researching housing issues, advocating for autistic adults and their issues, and presenting her work at local and national gatherings. She visits many residential communities and social enterprises across the USA and highlights their unique victories and learning curves while sharing stories of residents with autism and other developmental disabilities. Desiree is also the project lead for Madison House's interactive Autism Housing Network. Her passion is empowering autistic adults and parents to create a future that is exciting and life affirming by offering small group consultations for forming projects.