I began working as an Occupational Therapist in 2005 and had my first experience working with people who have acquired disabilities in Adult Rehabilitation. I then worked with pediatrics and children with developmental disabilities. After seeing patients in their homes and now on horseback in hippotherapy, with their devoted families by their side, I realized that therapy itself is not so cut and dry. In the past year, I developed a job training program to help adults with disabilities gain the skills they need to find work in an agricultural setting.
Me working with a client
I've also become a caregiver to a young man with autism who moved in with my fiancee, Desiree, and me. He is 24 years old, has a driver's permit, and recently secured a job through my start-up program and the Department of Vocational Rehabilitation (DVR). It has become a real concern that he may lose his social security income (SSI) benefits as he starts saving for a car and ultimately a tiny home. As his representative payee, I am not only responsible for the income he receives through SSI, but recording how he spends it and helping him define value. Our goal is for him to be able to live independently within two years.
My fiancé, Desiree (left), our roommate (center), and myself (right)
The ABLE Act, and thus ABLE accounts, can potentially help my roommate achieve his goals of independence. The intention of these accounts is to allow individuals supported by government-funded benefits to explore job options and save money without the worry of risking the loss of funding for their basic needs. ABLE accounts are more than just personal checking accounts. Although personal checking is included, other uses are: savings accounts, money market funds, a brokerage account, retirement funds, a trust fund, and CDs (certificate of deposits). The ABLE National Resource Center's website is a valuable resource, offering the history of the ABLE Act, stating reviews of available accounts, up-to-date articles and history, as well as webinars.
Under federal law, each state must enact their own ABLE legislation, yet action is slow-moving in Colorado and other states. This lack of urgency may be due, in part, to a lack of public awareness. In my state of Colorado, the ABLE website claims that "… there are no states that currently have an active ABLE program." This sends an inaccurate picture to Colorado's families' and citizens with disabilities. Current states that offer an ABLE program are Michigan, Tennessee, Nebraska, Ohio, and Florida (although Florida currently only enrolls in-state residents). People with disabilities can apply for ABLE accounts in any state's program provided that the program is accepting out of state residents.
In learning this and reviewing each of the state options, we determined that Nebraska (website) would work best for our roommate. Here are some things we learned about Nebraska's ABLE accounts:
Contributions are not used to determine eligibility for resource-based benefits.
There are two ways to open an ABLE account in Nebraska: online or mail-in.

It is required to use a paper mail-in document if the account holder (person with disabilities) is a 1) minor, or 2) if the account holder has a legally authorized representative (guardian, conservator, or legal power of attorney) with the appropriate documentation to prove such.

Nebraska requires an investment option.

This includes various growth options that are similar to stocks and bonds. They are listed as the: growth option, moderate option and conservative option.

Although the checking account option is currently unavailable, there is a bank savings account that is similar to a savings account.

The difference being that the checking account option will include a debit card that mimics the easy, reliable and convenient use of a debit card from your local bank.

There is an annual fee of $45.

Although there are no fees associated with transfers or withdrawals, there is an annual fee of $45.00, drafted in quarterly payments of $11.25. This is well worth the security of knowing he will not lose his public assistance.
Outside for some exercise
We decided that once my roommate saves $1000.00, he will begin using this bank savings account, which allows him to save money, unhindered. This is a simple method to provide an insurance (if you will) to begin working towards his goals without the fear of suffering a loss of benefits. He will have the opportunity to make decisions based on motivation and desire, instead of fear. This, we believe, will help his confidence grow along with his independent life skills.
For more information, contact: 1(844) ENABLE-4 or [email protected]
---
Join Us for a Facebook Live Discussion: "ABLE Accounts: Our Experience"
To learn more about our experience with ABLE accounts, join us on December 15th from 12:00-12:30PM EST for a live discussion on the Madison House Autism Foundation Facebook page. Until then, click here to sign up for the Autism Housing Network and to receive important updates about our upcoming events.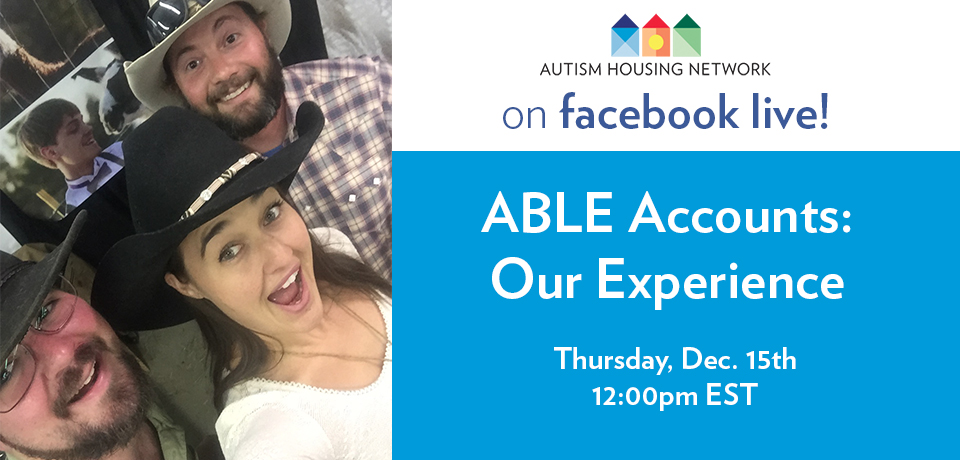 ---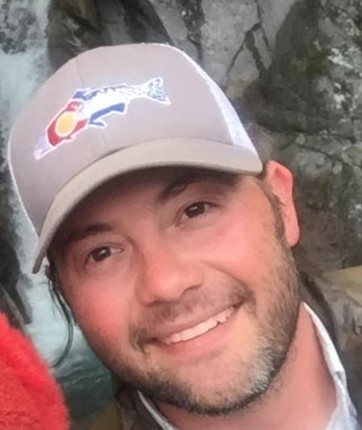 About the Author: Jeffrey Galloway
Jeff Galloway is an Occupational Therapist (OT). He graduated from Louisiana State University in 2005. After working at University of Colorado Hospital until 2014, he transitioned into the specialty of hippotherapy or OT on horseback. He has developed a nature-based OT outpatient clinic, vocational rehabilitation program focused on the agricultural industry and leads OT students through their clinicals, introducing them to hippotherapy and the concept of practicing OT in an outdoor setting. He continues to develop innovative nature-based programming in the beautiful state of Colorado.