ABOUT JOHN M. WILLIAMS
As an autistic adult, John Williams sees his work as a metaphor for his daily life. "The world is for me a chaotic place. Thoughts and images swirl around endlessly in my head, making it hard to stay calm and focused. Art helps me live with autism by channeling my energy into creating new visions. I make order out of chaos by organizing many disparate elements into a unified and coherent image. I spend significant time researching my subjects to learn about them and their historical surroundings. By marrying my artistic vision with my passion for history, I seek to present a new perspective on history."
"I find it easier to reflect emotions in my images than in real life. I try to show the emotions I imagine the subject would be feeling, like the sad and worn face of Lincoln or the determined and forward-looking face of Obama. In all of my portraits the subject's eyes are the focus of the work, usually looking directly at the viewer – something that's hard for me to do in real life. Good examples are John Brown and Sacagawea. I learn through pictures and convey my sense of the world through my art."
Although John's portfolio originally concentrated on the Civil War, he has branched out into other areas, including western landscapes and a series of World War II montages on the War in the Pacific. He is also working on a series of presidential portraits. John's work has been exhibited at the Outsider Art Fair in New York, the Outsider Folk Art Gallery in Pennsylvania, the SOFA show in Chicago, and numerous locations in New England.
John's work has been featured in articles and books, including a cover story for The Folk Art Messenger, a feature article in the Boston Globe and Drawing Autism by Jill Mullin, and a primetime interview on New England Cable News for Autism Awareness Month.
John holds a Bachelor of Fine Arts from the University of Massachusetts in Lowell. He currently lives in Winchester, MA.  See John's curriculum vitae.
John's art is currently being exhibited at the Belmont Gallery of Art in Belmont, MA.
To view John's full collection, to request a commissioned piece, and/or to purchase prints, visit his website.
---
INTERVIEW WITH JOHN
How did you get involved with art?
I have been involved with art since my earliest recollection. I was about three years old when I first started modeling with clay, creating dinosaurs and fantasy creatures for my own amusement.  I feel a need to create art.  I continued with clay modeling all through school and planned to become a sculptor or special effects makeup artist after college.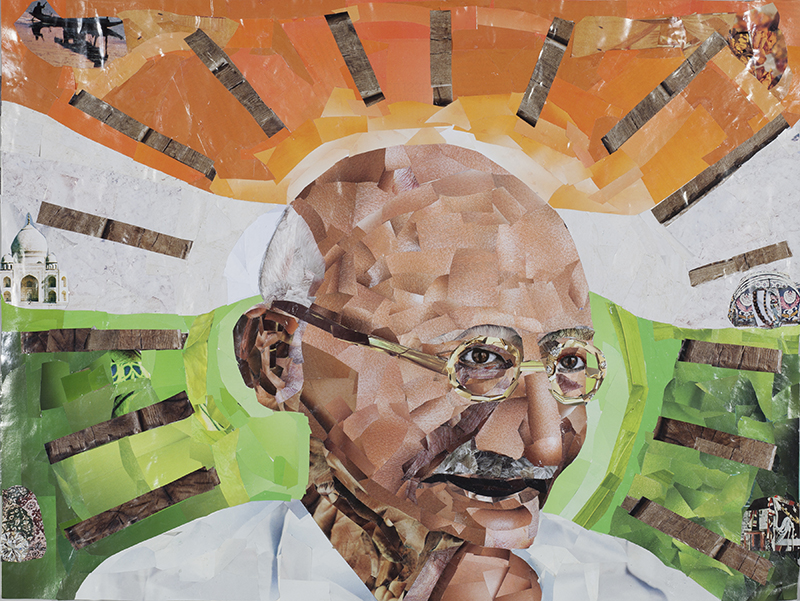 Gandhi, 18″ x 24″
What is your medium of choice?
At the end of college, I turned to create cut-paper collage portraits and landscapes. The portraits were mostly historical figures, enabling me to marry my artistic skills with my love of history.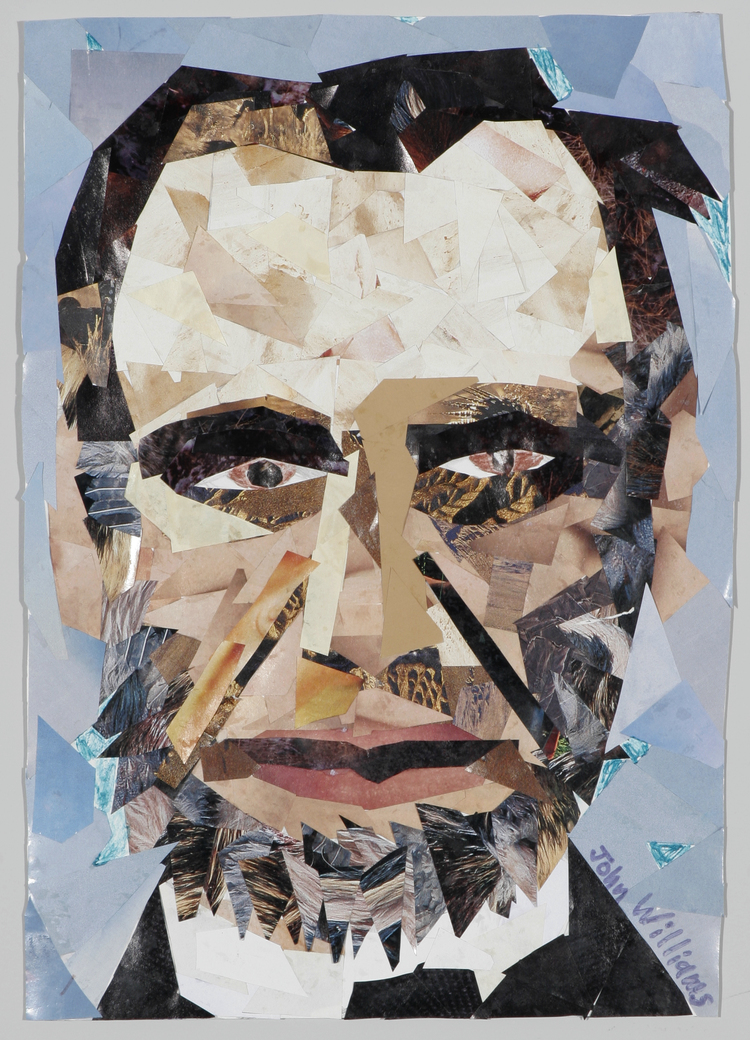 Lincoln, 28″ x 24″
How do you choose your subjects?
My subjects usually come from topics I study such as the Civil War, World War II, and Vietnam, ancient history.  Most recently I have been producing a series of pieces related to Cuba in light of recent developments and the fact that my brother is currently working on normalizing relations between the U.S. and Cuba.  These pieces are on display in his office in Washington, D.C.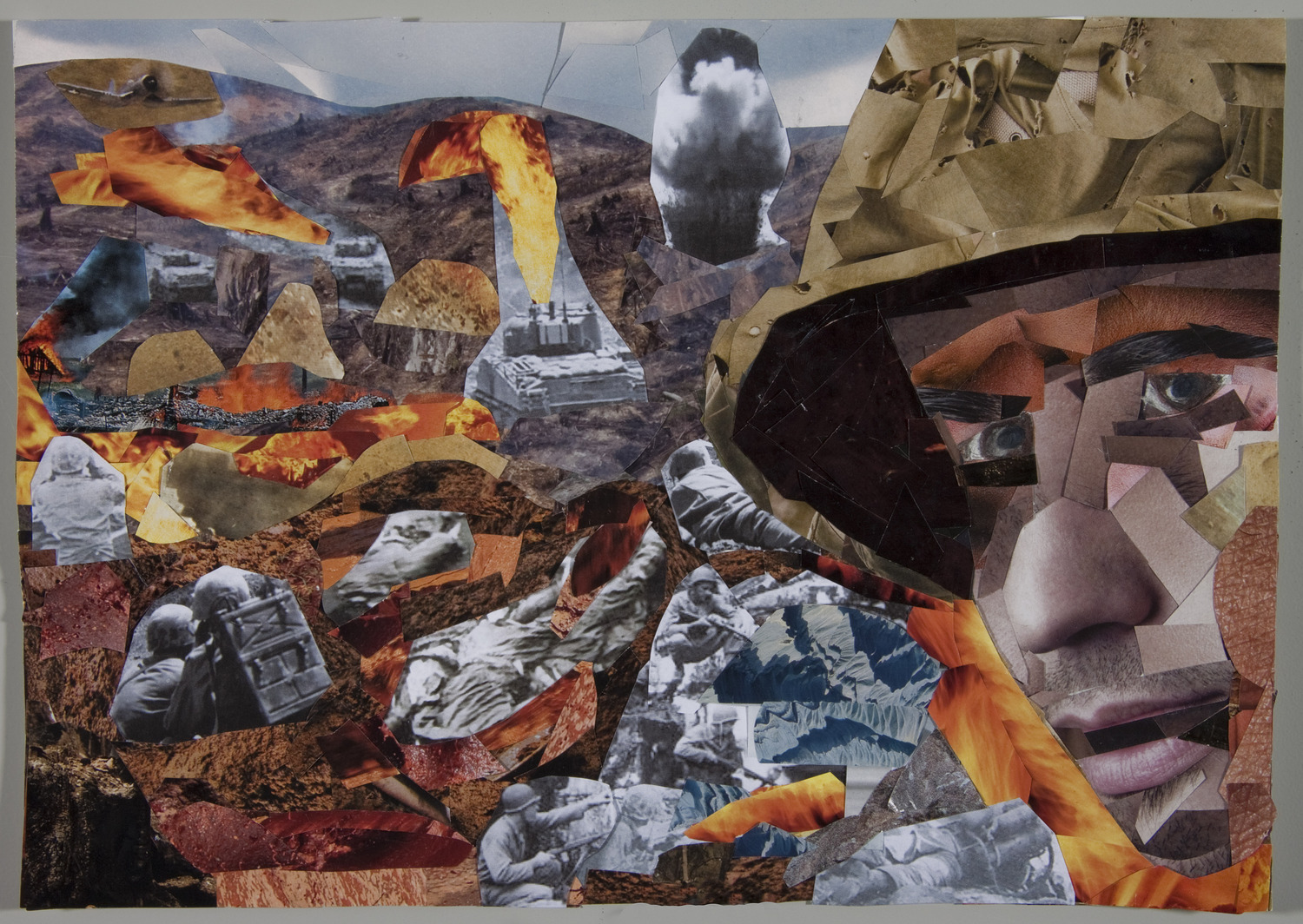 Okinawa, 8 1/2″ x 12″
 W
here do you derive your inspiration?
My inspiration comes in part from earlier artists and their methods such as Picasso's cubism and Romare Bearden's collage work. Other sources of inspiration are from my reading, documentary films, photographs, and maps.  I am a visual person, so pictures and photos stick in my mind more than words.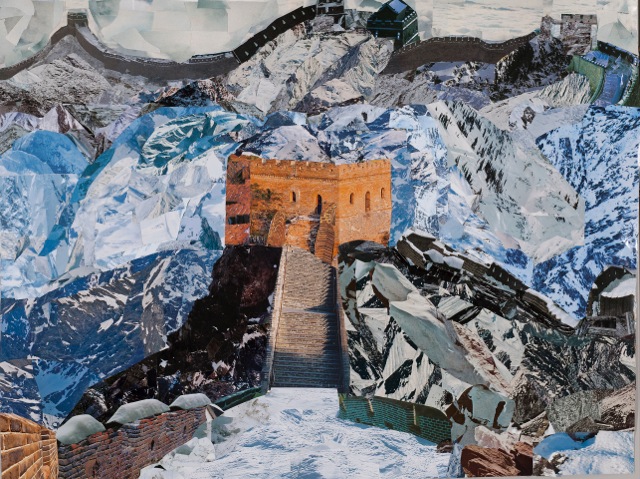 Great Wall of China, 18″ x 24″
What projects are you currently working on?
I am currently creating a Cuban landscape with a large tropical flower in the foreground and a sugar cane field in the background.  My Cuban pieces attempt to capture the culture and essence of the island and its people.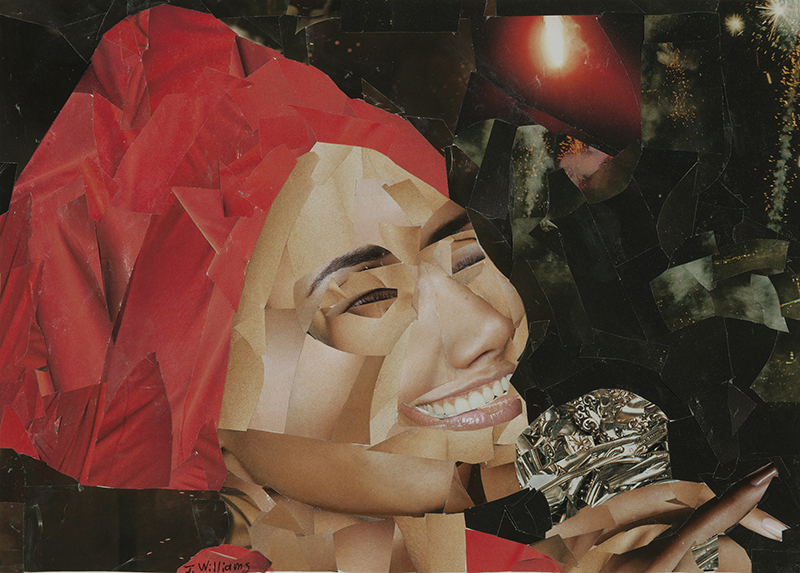 Omara, 24″ x 28″
What piece are you most proud of and why?
I am most proud of my portrait of Sacagawea.  She was my first female subject and I found her story fascinating.  I depicted her with her infant in the Bitterroot Range as she guided the Lewis and Clark party.  No one really knows what she looked like so I created my own artistic vision.  People always comment on her serene beauty and the lighting on her face.  My work has many layers of meaning.  For example, in this case, I included fur in her costume reflecting her husband's role as a fur trapper and feather accents reflecting her Shoshone tribe's customs.  I really study each subject in-depth and try to portray as much information as possible in my work.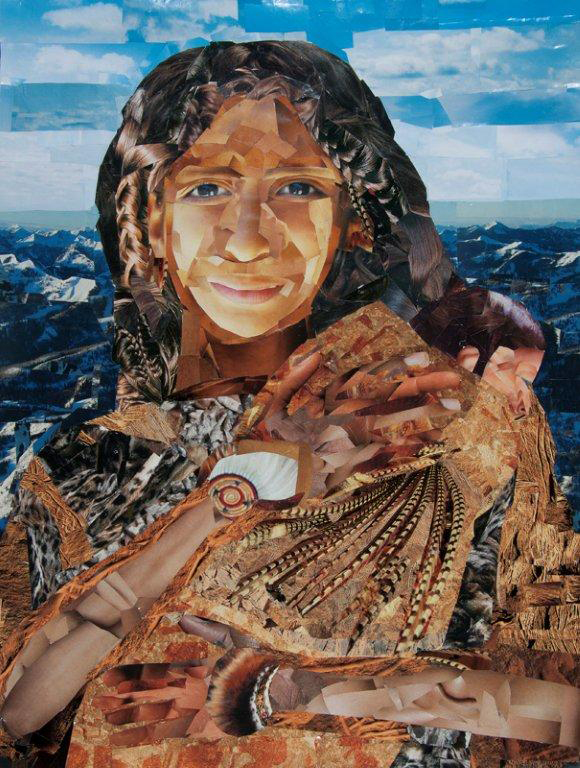 Sacagawea, 18″ x 24″
How does creating art make you feel?
While I'm creating a piece, I get caught up in the act of creation, and the piece sort of creates itself – sometimes leading to a different result than originally planned.  It makes me feel composed and in control so I can better manage my anxiety.  At the end, I am proud of my work and enjoy showing it to people.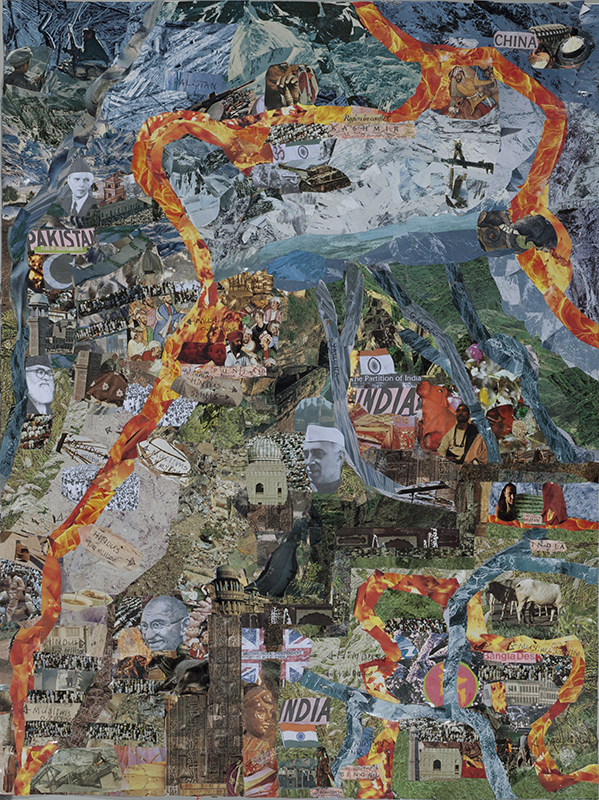 Partition of India 1947, 24″ x 18″
What has been your greatest professional accomplishment?
I had two major solo shows in Florida earlier this year.  I had several interviews that were featured in the local press.  I also had several speaking engagements – the first time I had spoken in front of a large group.  It was scary but it got better as I went along.  The attendees really seemed to enjoy hearing about my work and process.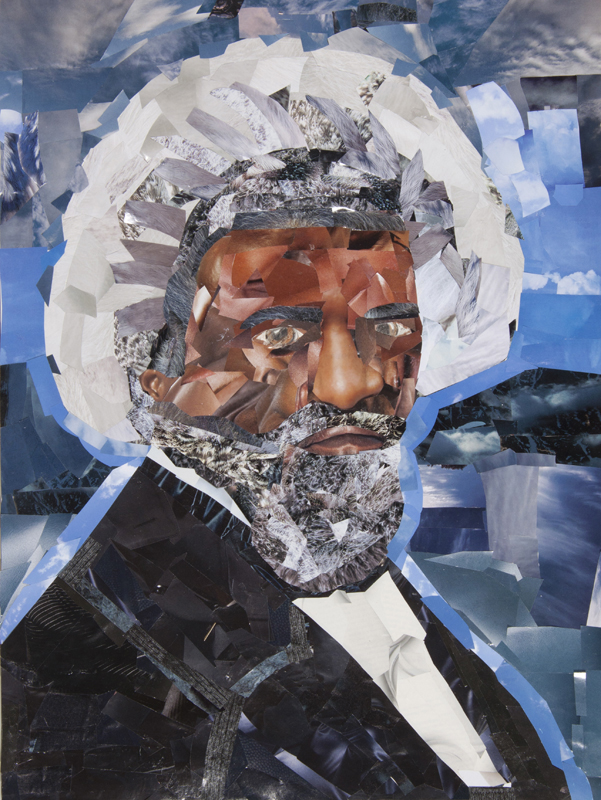 Frederick Douglass, SOLD
What is your greatest goal for your art?
I like to think my art is an inspiration to other autistic people and their families, as well as to other artists.  My art can be used for educational purposes, especially the historical pieces.  I sometimes speak to student groups using my art as a teaching tool.  I hope to leave a legacy through my art.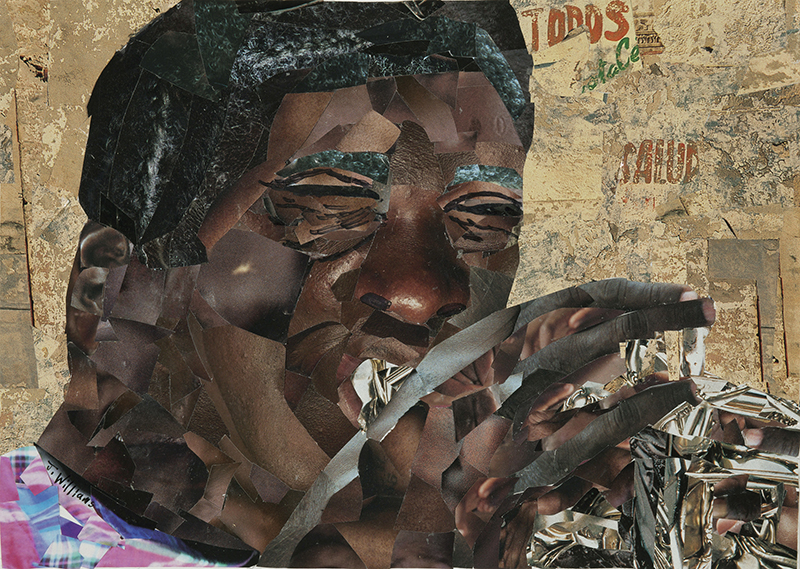 El Trompetista, 24″ x 18″
What is your biggest goal for your future?
My greatest goal is to make a living through my artwork by both selling work and doing speaking engagements about it.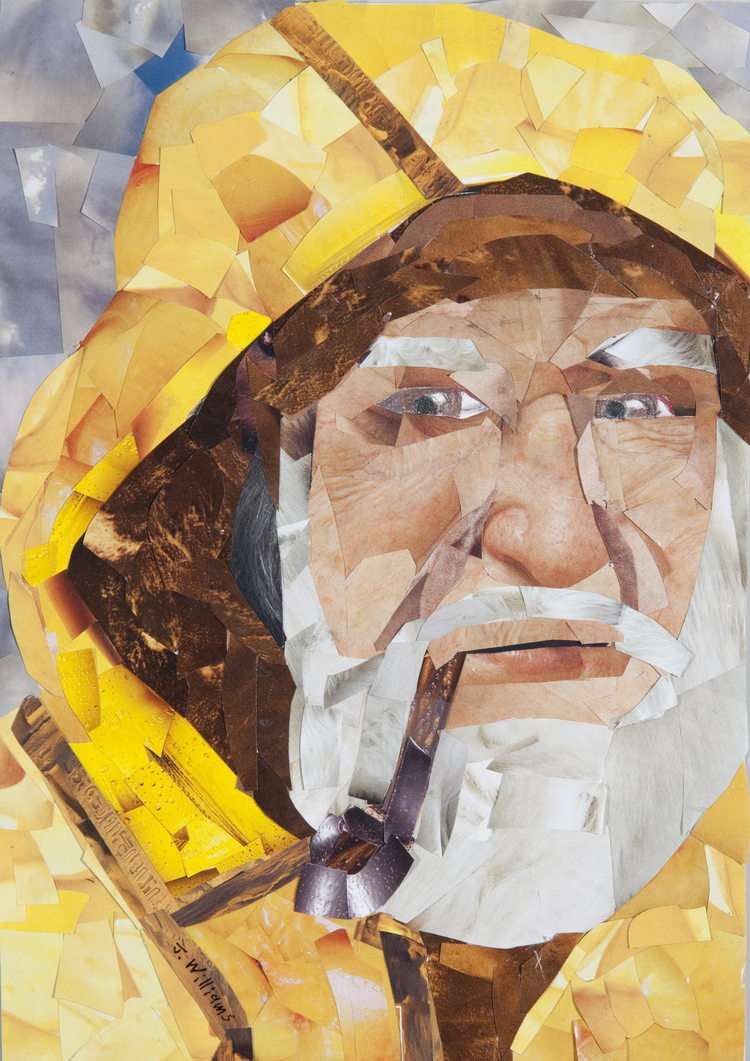 Fisherman, 12″ x 8 1/2″
About the Author
Shannon Doty
A Maryland native, Shannon has been working in digital media for three years and with special needs individuals for seven years. Obtaining her B.A. in psychology from UMBC, her greatest goal is to creatively utilize digital media to form meaningful connections between those in the disabilities community and beyond. Shannon loves traveling, going to art museums, and cooking with her boyfriend, John.