Madison House Autism Foundation is planning a reception and month-long exhibit for an April 2014 Arts for Autism event with the University of Maryland at Shady Grove. We are currently looking to identify artists on the autism spectrum who would like their work to be part of the exhibit. Selected pieces will be displayed at the Universities at Shady Grove throughout the month of April, and we are hopeful that we can move the exhibit to different venues throughout the county. We would also like to identify a piece of art that will serve as the central image in our collateral materials (invitation, posters, social media, etc.) as soon as possible. Overall, the event vision is to ensure achievement of objectives – awareness, education, recognition for autistic artists, sale of works, and funding support for MHAF programs.
We envision the following outcomes: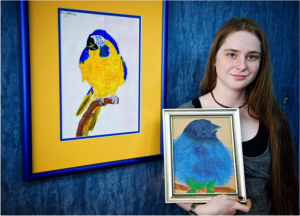 Raising awareness throughout Montgomery County about the issues that many of the families with children with autism face after age 21- aging out of school and government programs with little hope of employment, housing and lack of supportive services
Ensuring that the Opening Reception is a fun, impactful event attracting elected officials and corporate and community leaders, as well as arts patrons, and, of course, the artists and their families
Providing input on creative elements and educational components, including a video of the artists' stories
Helping to secure sponsors and donors to cover event costs and contribute to ongoing programmatic support
Requirements
Open to those artists 18 years of age or older who have a connection to autism
All artwork must be equipped for display with framing and be wired as to create a clean and professional appearance. Canvases do not need to be framed, must be wired on the back for hanging.
Label artwork on the back, with artist name, artwork title, artist contact, information, and price  (Note:  Artwork can be designated "not for sale." If someone would like purchase art, we will put that purchaser in contact with artist).
Artists must complete and sign an artist contract.
Please send a picture of your piece and an artist's statement to

[email protected]

.

We look forward to receiving your submissions!