Driving through rural Texas, I didn't know what to expect from a "farmstead." There are mixed opinions in the autism world about whether farmsteads are isolating and segregating; or if they give access to a lifestyle otherwise not available to those with autism and other intellectual/developmental disabilities (I/DD). When I heard a prominent autistic advocate mocking "Dude Ranches for Down Syndrome," I decided to book a flight to see for myself what there was to laugh about.
The entrance of Down Home Ranch was unassuming except for the handsome longhorn that made the perfect backdrop to my quintessential Texas selfie! I drove past a grove of blackberry bushes and a barn with miniature horses to a fleet of 11 large-scale greenhouses with a set of offices and a public gift shop. Down Home's Founder, Jerry Horton, greeted me with a smile and a golf cart ride to my lodging in the Cedar Cabin. The former sociologist, his wife Judy, and his daughter Kelly, who has Down Syndrome, moved into a trailer on the ranch over 20 years ago. It's remarkable to consider how this ranch had developed in the span of just two short decades, and it is evident that the greater community is invested and supportive. Watch the amazing "The Best Day of My Life" video below for a glimpse into daily life at Down Home.


The Cedar Cabin is one home of a total of twelve homes where 32 people with I/DD and 17 neurotypical staff and families live in intentional community. The beautiful cabin was warm and inviting with a basket containing a jar of jam made from the blackberries I passed on the way in, a small loaf of home-baked banana bread, other snacks, and a welcome note. The cabin was full of small details of hospitality, which I later realized were products of the several social enterprises at Down Home. I quickly got ready as the welcome note mentioned I would be joining those who lived at the Martha's house for dinner.
Having visited various group homes, I am accustomed to the potential of awkward tension between staff and residents. However, this was not my experience at Down Home. Five young women with various disabilities were busy finishing up dinner preparations with their resident assistant when I knocked on the door. One of the ladies gave a tour of the home, pointing out each rancher's bedroom. Each room reflects the resident's unique personality and interests (interests that later became topics of dinner conversation). Within an hour, I found myself wrapped up in ranch romances and tales from their recent cruise. After the delicious meal, I was nearly left in the dust when the residents walked over to the guys' house to hang out. Needless to say, I got the impression that visitors at Down Home are an everyday affair.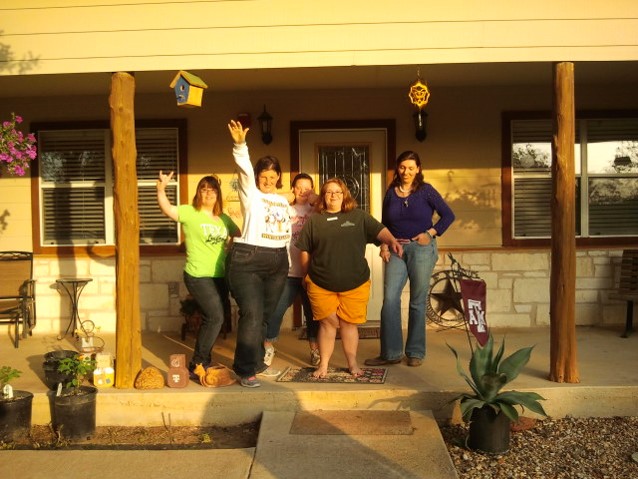 Martha's House
Even though only about 50 people with and without disabilities live at Down Home, these ranchers clearly demonstrated that they have more of a social life than many who live in cities with lots of people and few meaningful relationships. We walked past other group homes, staff homes, and cottages for those who want to live alone or with a significant other in the future to the guys' house. The guys' house is true to form with furnishings of mounted deer heads and competing college football memorabilia. The girls were met with a happy welcome as they walked in. However, if at anytime someone decides it is time to go to home or if the frenzy of social butterflies is too much, ranchers have the freedom to walk home, down to the pond, or to another friend's house nearby.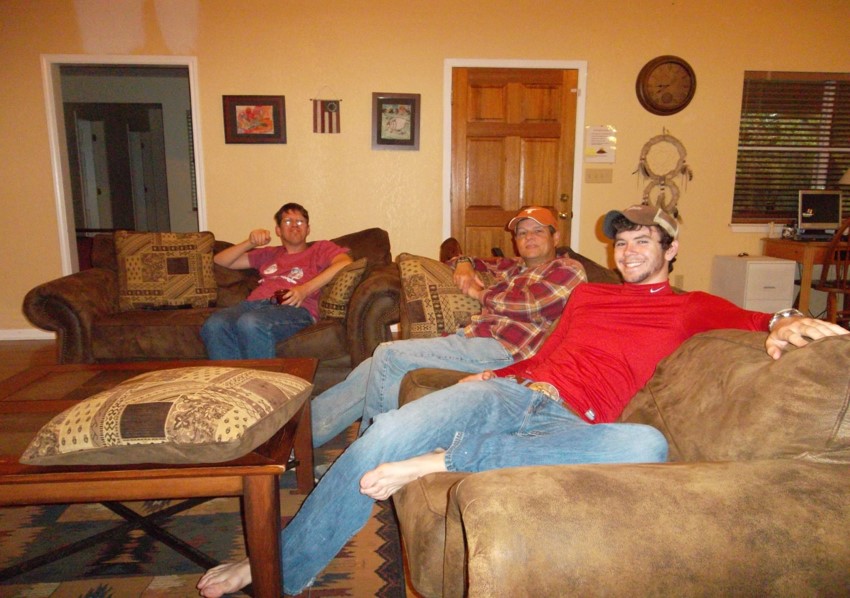 The Guys' House
After mingling for a bit, I finally got to meet Kelly's longtime boyfriend, Sterling. The couple is planning their Promise ceremony while working on independent living skills so that they may one day move in together as a couple in one of the cottages. Some people who rely on Social Security Income (SSI) choose cohabitation over marriage because it will not threaten their already meager $729 monthly support.
I went to bed that night feeling energized and yet frustrated that Down Home Ranch had been stigmatized and mocked by an autistic advocate who has a national platform from which to speak. Has he visited or spoken to these residents who have friends, jobs, and so much laughter and love here at Down Home?
As a working ranch, there is a lot of work to be done. Ranchers have many choices in how they want to contribute to the health of the ranch: feeding animals and mucking stalls, picking and cleaning produce, assisting with packaging and processing orders, preparing meals and food baskets for the community, maintaining the grounds and moving cattle, cleaning guest cabins and office spaces, etc. The ranch is completely self-sustainable in terms of hay production, grass-fed beef, and hydroponic produce.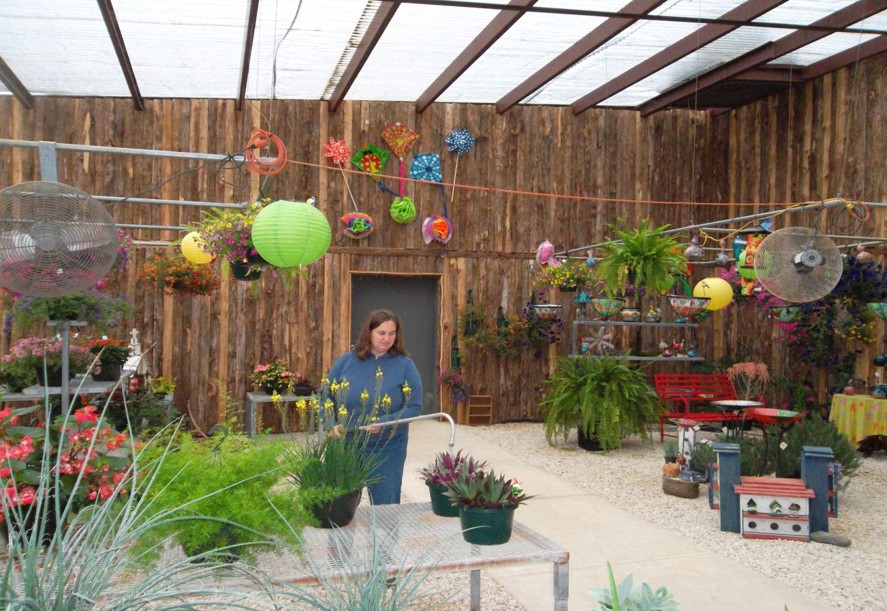 Gift Shop
It's not "all work and no play" at Down Home Ranch. Ranchers also have many opportunities for leisure and can dictate what they want to do without depending on anyone for scheduling or transportation, unless, of course, it's to invite friends to join them. They can run home, get changed to go swimming, play basketball, canoe in the pond, hike, spend time with the animals, work on their golf cart driving skills (19 have their golf cart licenses and seven own their own carts), or just hang out on their front porch. Every week, the Village Council (comprised of only Ranchers with I/DD) decides what they would like to do in town over the weekend. They choose things like where they may want to go on vacation or what changes need to be made at the Ranch. Yes, going to Starbucks, the mall, or to a movie during the workweek takes a bit more coordination, but these activities are not the norm to someone who chooses and/or grew up living and working on a ranch.
Of course, I had to ask about those who thought living at Down Home would be a good fit, and then realized maybe they weren't cut out for the rural lifestyle. Jerry told me about a Rancher on the autism spectrum who decided that he needed a change and wanted to move to Austin to be part of the music scene. Not only did Down Home Ranch help him find and move into a garage apartment, they also connected him with a job at a local hospital. Despite having a home and holding his job, it was soon apparent that he was lonely in comparison to the hustle and bustle of the ranch. He then tried moving back to his family home in Houston but was miserable. Six years later, he reconnected with Jerry and moved back to Down Home with a full-time job and a mobile home!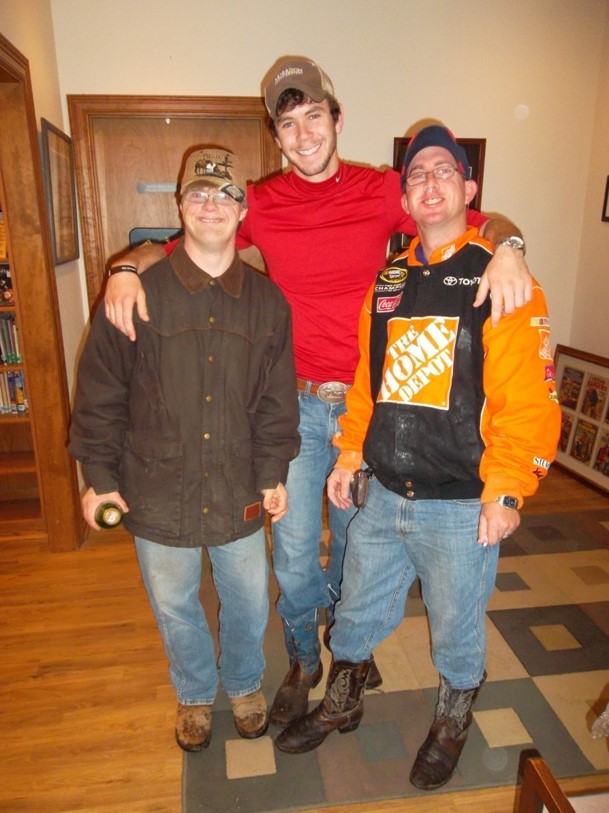 Ranchers
Down Home Ranch has over 410 acres of land and could easily create a sister property a mile down the road, but the state will not allow the funding for waiver support services to follow a person to Down Home Ranch. The government, not current or potential Ranchers, has decided that there are enough persons with I/DD accessing support services living at Down Home Ranch. Therefore, future housing offerings can only be for those who are "high functioning" and can live semi-independently with natural supports (without waiver funding). Within the last month, several micro-homes were purchased (with charitable foundation grants) and several working Ranchers will soon be the proud renters of their own homes. In order to continue to accommodate Ranchers who need waiver support services to live outside their family home and who want to work at the ranch, Down Home bought several houses in a charming historic country town closeby where a commuter train is being planned. Those Ranchers who live there must commute, but if given the choice, would prefer to live on the ranch with their friends instead of "in town."
I asked many people why they chose to live at Down Home Ranch and the typical responses are either "it's fun" or "I have friends." I asked Kyle, a young man with Down Syndrome wearing a dirty black cowboy hat, and he said, "I want to be a rancher because my Daddy was a rancher." Kyle and those who live at Down Home Ranch, both with and without disabilities, are Ranchers. There are times when neighbors call because a fence is down and an animal is out, or they don't have enough help to move a shipment of hay. Reliance on the outside community is both welcome and highly valued by all parties. Jerry says that it's these spaces of interdependence that "bind [them] with [their]neighbors in ways unknown in much of urban living."
Since visiting Down Home Ranch, I have visited at least 20 similar ranching/agricultural communities across the country. Those with autism or I/DD choose to call these farms and ranches home. They are places where their daily work is valued, where meaningful relationships have blossomed, and where they are integrated into their rural community. Reflecting the axiom of Temple Grandin, their choice of home and community is "different, not less than" and should be respected and supported.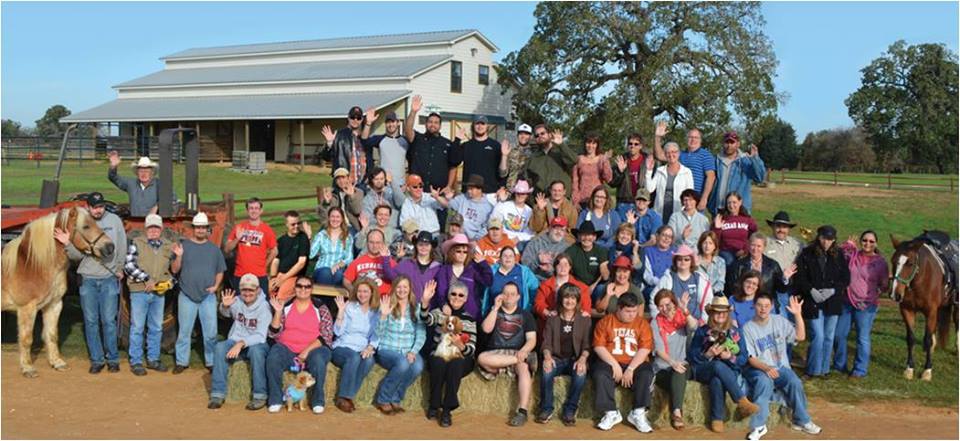 ABOUT the AUTHOR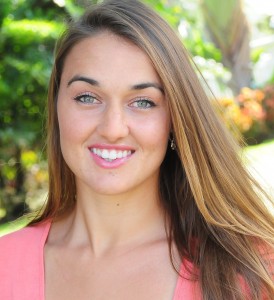 Desiree Kameka, Director of Community Education & Advocacy at Madison House Autism Foundation
Desiree's work focuses on researching housing issues, advocating for autistic adults and their issues, and presenting her work at local and national gatherings. She visits many residential communities and social enterprises across the USA and highlights their unique victories and learning curves while sharing stories of residents with autism and other developmental disabilities. Desiree is also the project lead for Madison House's interactive Autism Housing Network, which is currently in BETA testing. Her passion is empowering autistic adults and parents to create a future that is exciting and life affirming by offering small group consultations for forming projects.