As I mentioned in the last few paragraphs of a much earlier posting when I reviewed my initial reactions to Jason's Asperger's diagnosis, one of the harder things to come to terms with for me was that I probably wouldn't be able to enjoy my son's participation in team sports. I know there are those with AS who do get into such activities, but it's not usual. And having grown up as a "tomboy" myself, I had looked forward to playing "catch" or "one-on-one" with Jason as he got older.
Still, I held out hope that perhaps I could interest him in a more solitary game like tennis. No dice. Sports–any and all sports–turned out not to be his thing. We considered it a real accomplishment just to get him swimming. And we kept our fingers crossed when he "had" to take weightlifting and racket sports in high school to meet his P.E. requirements. He made it through both classes, but as soon as he graduated, it was back to his sedentary lifestyle.
That is why I considered his Pathway assignment two weeks ago on setting goals–and his selection of the physical goal of exercising to build muscle and gain some weight–such a gift.
I'll be honest. I purchased the TRX Suspension Training DVD and equipment this past summer for myself and my husband. I knew we needed to get into better shape (me particularly), and I was good to begin with–as long as my daughter was around to work out with me and motivate me. But once she left on her 18-month church mission, I was on my own. And the suspension straps hung limply for 3-4 months.
Then Jason chose his goal and suddenly they were in business again! He may not care for sports, but I think he's liking the feeling of getting stronger.
This exercise system was developed by a former Navy SEAL and it builds strength, flexibility, and endurance while burning calories and strengthening your core. As you follow the accompanying video, you can choose the easier routine or the harder, or do a mixture of both.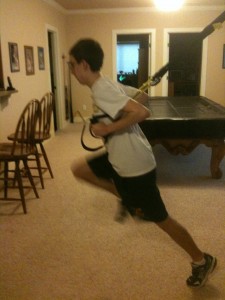 The Sprinter Start with the Knee Up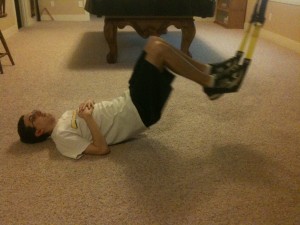 The Hamstring Curl with Hips Up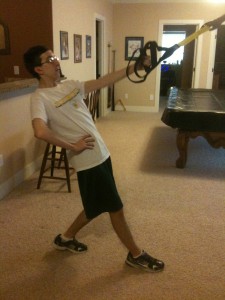 The Mid Row (Single Arm)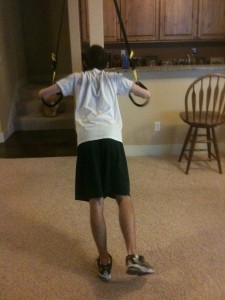 The Chest Press (Leg Extended to the Side)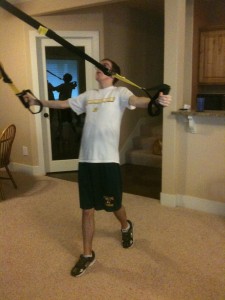 The Deltoid Fly (Offset Stance)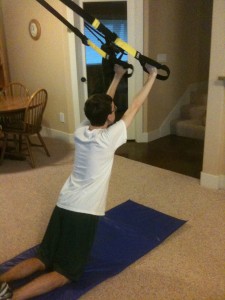 The Kneeling Roll Out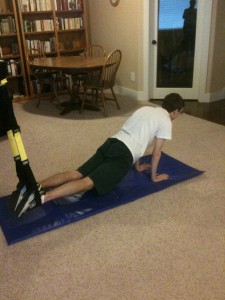 The Plank on Hands (held for 30 seconds)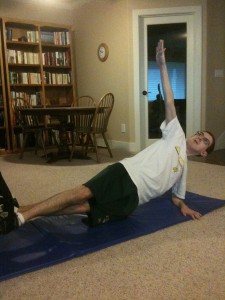 The Side Plank on Forearm (also held for 30 seconds)
(Note: I do not even attempt this one…yet.)
After all the exercises (only some of which are shown here), the video concludes with some cool-down flexibility routines.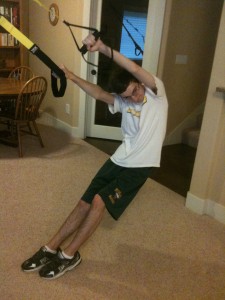 The Lower Back Stretch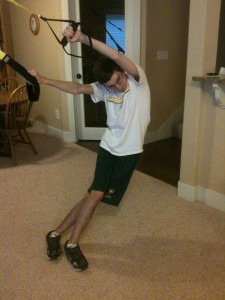 The Long Torso Twist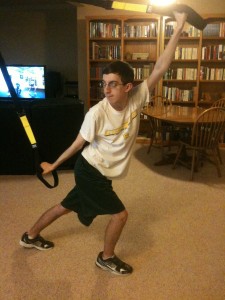 The Chest and Torso Stretch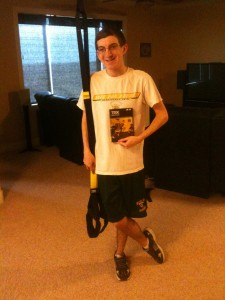 And we're done for the day.
Jason does this now three times a week. I'd started with him then got sidetracked when I had to travel to Utah for a book signing. That was actually a good thing because Jason's dad had to cover for me and now he's interested in doing it for himself. So now that Thanksgiving's over, I think we're both going to get going on this next week.
Not only has Jason begun to put on some weight (1.5 lbs. in two weeks), but he's getting out of that chair in front of his computer…AND he's got both Mom and Dad committed to following suit.
After all, we can't let him show us up!
What do those you know who are autistic or have AS do for exercise? And what do they absolutely refuse to do? I'd love to hear from you.