Brian Aubin is a 27-year-old Long Island native who was diagnosed with Asperger's syndrome in his late teens. Prior to and immediately following his diagnosis, Brian struggled with anxiety and depression, as well as alcohol and drug addiction and suicidal tendencies. Brian is now sober and healthy.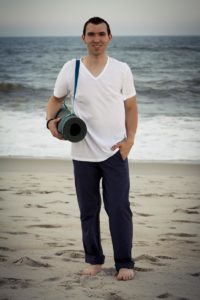 Over the last few years, Brian discovered yoga and wellness, attending classes and retreats at various studios across the island. Through exposure to these new ideas, Brian began to explore holistic health, such as Ayurvedic diets, spirituality and loving-kindness. This has benefited him profoundly.
Brian participated in a training to teach hot yoga in 2014. From there, he expanded his certifications to include a 200-hour Yoga Alliance hatha teacher training and trainings in yoga 12-step recovery, and yoga for the autism and special needs community. He is also certified in Reiki .
There is no one panacea for autism and addiction, but yoga and meditation have helped Brian to feel more grounded and much less anxious and depressed. Due to that, Brian wants to share yoga, stress management and reiki with other individuals with autism and special needs.
Brian dedicated his skills and energies to the underserved special needs community, and has even partnered with us at Madison Fields to offer neuro-inclusive yoga classes. Through the powerful and healing force of yoga and wellness, Brian truly believes that his students will learn to access a world where they are happy and free.
Continue below to read an interview with Brian where he shares how yoga and meditation can help individuals on the autism spectrum.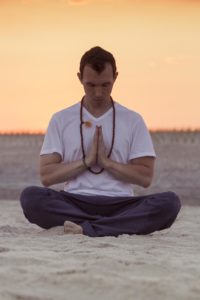 ---
Interview with Brian Aubin
MHAF: How has yoga impacted your life as an individual with Asperger's?
Brian Aubin: I was diagnosed with Asperger's syndrome when I was 17 years old. Prior to and immediately following my diagnosis, I struggled with anxiety and depression, as well as alcoholism, drug addiction, and suicidal tendencies. Through discovering yoga, meditation practices, and finding good therapists, I am now healthy and sober. These practices give me tools to help self-regulate and not act on destructive impulses. Because of my Asperger's, I've sometimes found social situations to be difficult. Yoga has helped me discover tools for dealing with anxiety and ways to more authentically connect with people. As a result, I found my own spirituality. As a yoga instructor and Reiki practitioner, I feel grateful that I can share these tools with others.
MHAF: What advice can you give to adults with autism and special needs and their families who are struggling to overcome the challenges in their daily lives, but are unsure of where to turn?
BA: I often tell parents just because someone has an autism diagnosis it doesn't mean they can't live up to their full potential; they're just as capable as anybody else. I feel it's important for parents to accept their children for who they are and to understand their experience of the world. I would suggest looking for a good therapist that is educated in autism spectrum disorder or who has a child on the spectrum as well as connecting with other parents who have children on the spectrum and going to autism support groups and events.
MHAF: How did you discover yoga? What motivated you to pursue this lifestyle?
BA: My aunt owned a yoga studio and my sister took me to my first yoga class there. I loved the way it made me feel. I was sick of feeling anxious and depressed, so I thought yoga could help me to feel better and could offer an alternative to self-medicating with drugs and alcohol. As I developed my own practice, I came to love the yoga community and how everyone was so supportive and caring.
MHAF: How does yoga and meditation affect individuals with special needs? What are the benefits that come along with practicing?
BA: Yoga and meditation has a lot of benefits for those with special needs. It helps them to calm self-stimming behavior and regulate strong emotions such as anger. After teaching classes with this population, I have had parents and aides tell me that they have never seen their children or clients stay focused for so long.
MHAF: How can yoga and meditation foster a more inclusive community for individuals with special needs?
BA: Yoga and meditation will help individuals on the spectrum to meet other individuals with autism, and these practices will make them more peaceful and calm. Because yoga and meditation focus on acceptance and being in the moment, this community is particularly helpful for those who feel isolated from the world.
---
Be sure to check out Brian's website to learn more about his practice.
---