Note: Some of the quotes used in this article were paraphrased by Christian's mother, Mayra.
---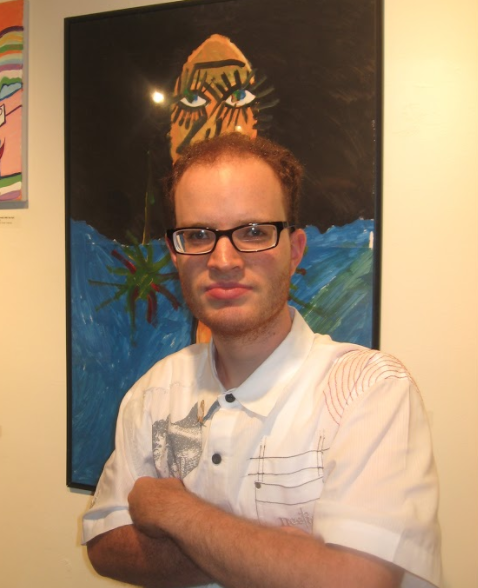 Christian Early, 33 (2017), began painting when he was 17 years old. As a person living with autism, Christian struggled to do well in school, but his mother, Mayra, was determined to discover Christian's strength. When Mayra noticed that Christian was able to sustain focus for over two hours drawing a vase and a superhero, she immediately sought venues for him to obtain formal art training. Unfortunately, there wasn't much out there as Christian needed a more personalized training. Christian says, "I want to make friends and play like others, but I can't. I don't know how. But I do like people. I also always think the best of others."
Mayra decided to create an art school for Christian in her home. Christian would come home from school in the afternoon and have an art teacher for four hours every day. In Christian's words, "I loved it! It has been now 13 years since then."
Even though Christian had challenges in school, he excelled at making others laugh. According to Mayra, "Christian has a wonderful sense of humor and a vibrant innocence. He always thinks everyone is good. He absolutely loves children; will defend them always, and he looks out for them." This aspect of Christian's personality is reflected in his carefree, imaginative, and uplifting work.
Continue reading for an interview with Christian and his mother, Mayra, and to view a selection of Christian's work.
---
What inspires Christian's art?
Christian just loves to create things from his head. He creates these animals and characters that are unique, unusual, and whimsical. While he is creating them, he makes noises and makes up stories in his head of what they are doing or where they are going. His characters come from his imagination. His cats have personalities. His dinosaurs are happy. His lions are not dangerous. His people are always smiling. His world is perfect and full of harmony and definitely contagious.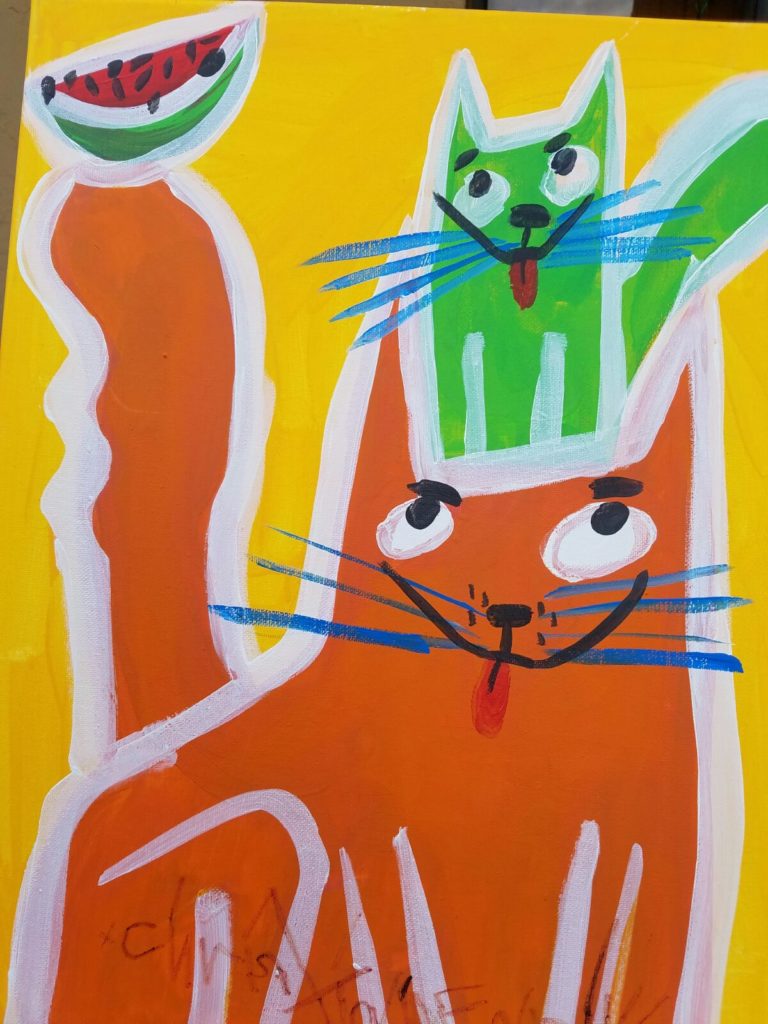 Big Cat with Little Cat
Does Christian's autism help with his artistry?
As a mother, I can say that the way he is and the way he sees the world definitely helps him create a world of innocence few of us are able to imitate. His world is full of joy and happiness, so his characters breed those feelings. Christian thinks everyone is good. Though if he doesn't like you, you better watch out. He is great at ignoring those few he doesn't like.
Christian, what is something that not many people know about you?
I turn on a Darth Vader lamp every night before I go to bed and I have a pair of make-belief Dracula teeth hidden in my Darth Vader trunk, which I use when I am bored. I put them on, look at myself in my bathroom mirror, and smile.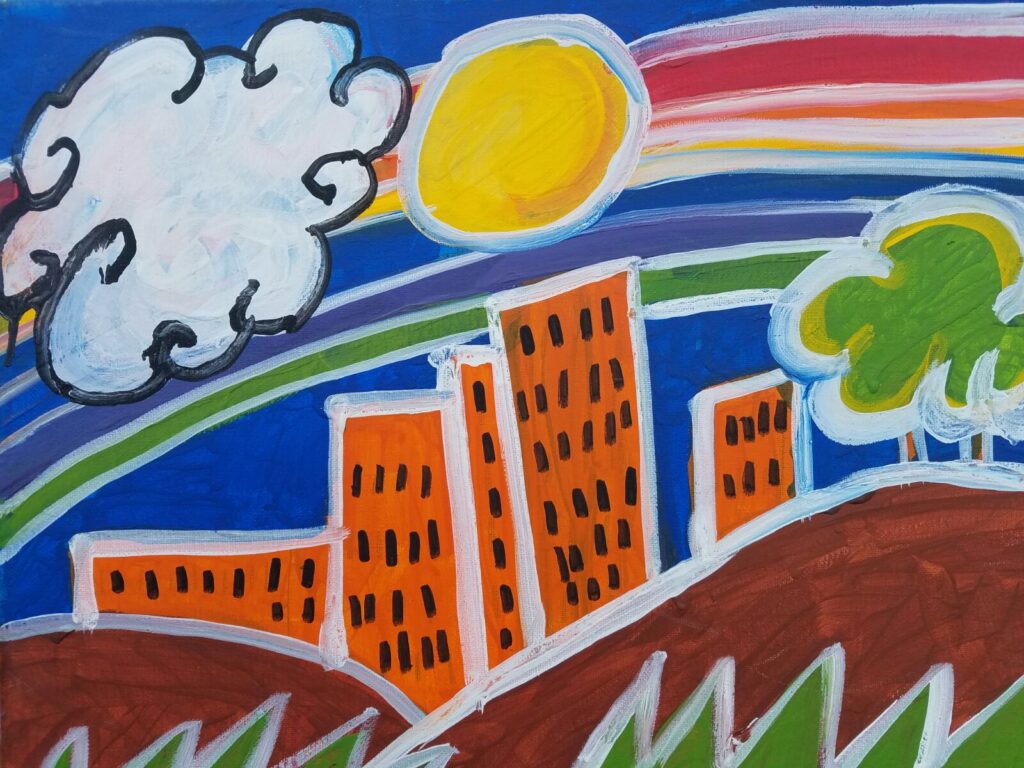 Buildings
What do you wish the world knew about autism?
In my first book, "Can you See Me?" (we are doing the second edition now), which I co-wrote with my mom, I told her in my funny way about a shark who was able to see me and make friends with me simply because he took the time to wait for my response. I take time to answer to people's questions so because of this, many people believe I can't talk. I find people are so impatient. They want to have a conversation like you would have with anyone else, but with me it doesn't work that way. I will talk when I see you are interested and when I want to. You have to show me you care. This can be by just sitting beside me and looking at a book together and waiting. I find that people do not take the time to get to know others.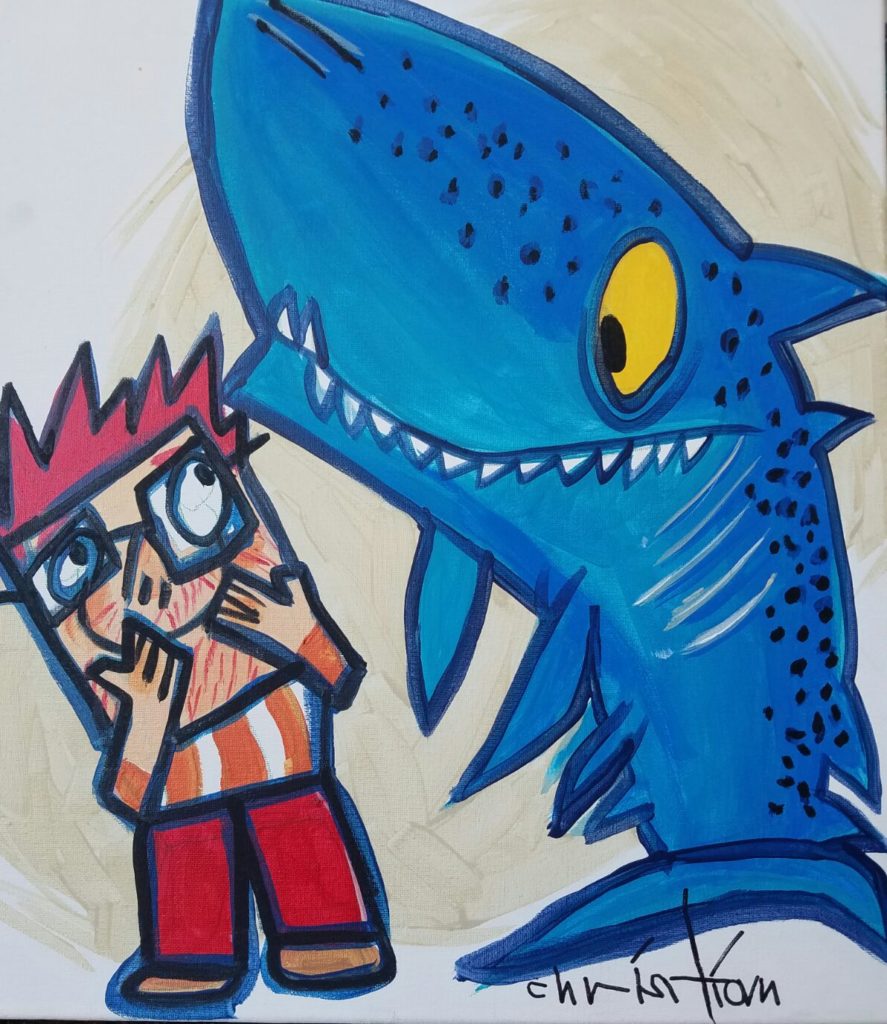 Shark with Christian
What is Christian's greatest accomplishment?
His constant sense of humor. The world for him is a game. His biggest accomplishment is really, that despite the fact he many times refuses to be social or talk, he has a way with people and they like him. He is likeable and funny and approachable. He also feels accomplished when he draws. Another of his greatest accomplishments is his perseverance. Painting for Christian was not easy. He had poor fine motor skills, and he had to learn. It was a boring task. He had to repeat circles, lines, triangles, etc. He worked tenaciously for hours and hours. Then when he began his own style, he still had to work hours to perfect his skills. He has had so many obstacles to overcome to get to where he is now as an artist.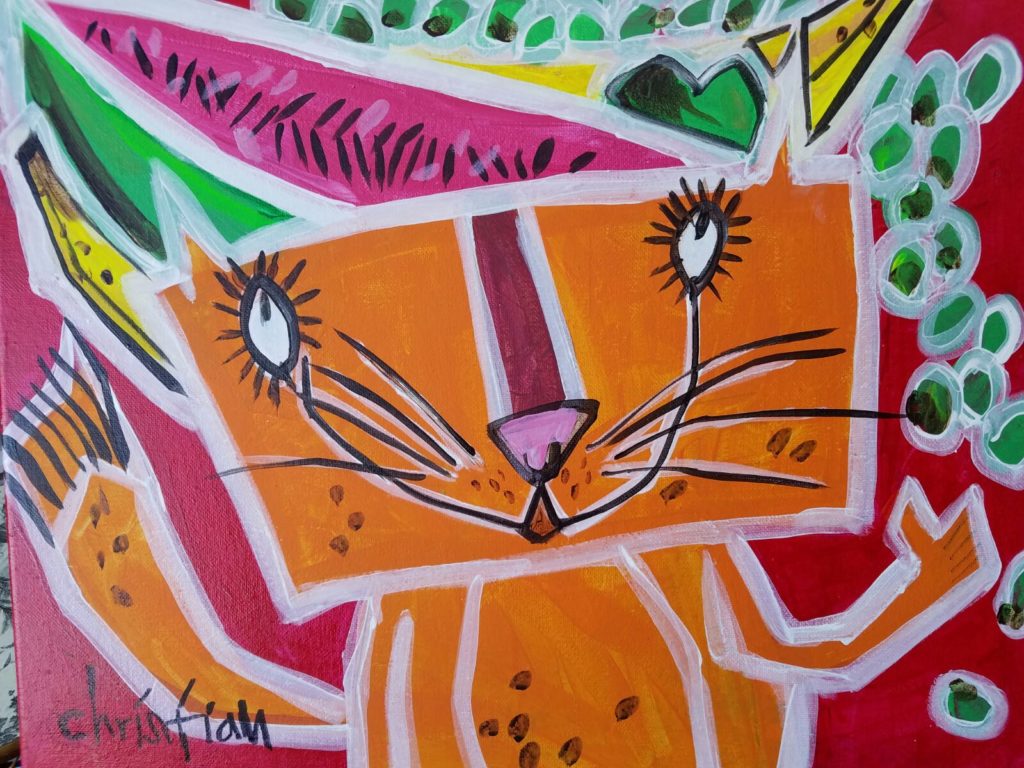 My Tiger
What is the greatest wish for your future?
As a mother, I would say to see him flourish as an artist in is own right. He has accomplished so much because he works hard, and he can compete with others because of it. Due to his label, he has had to work harder than other artists. I want him to be happy with whom he is because he did not give up. I want him to always know, he did it!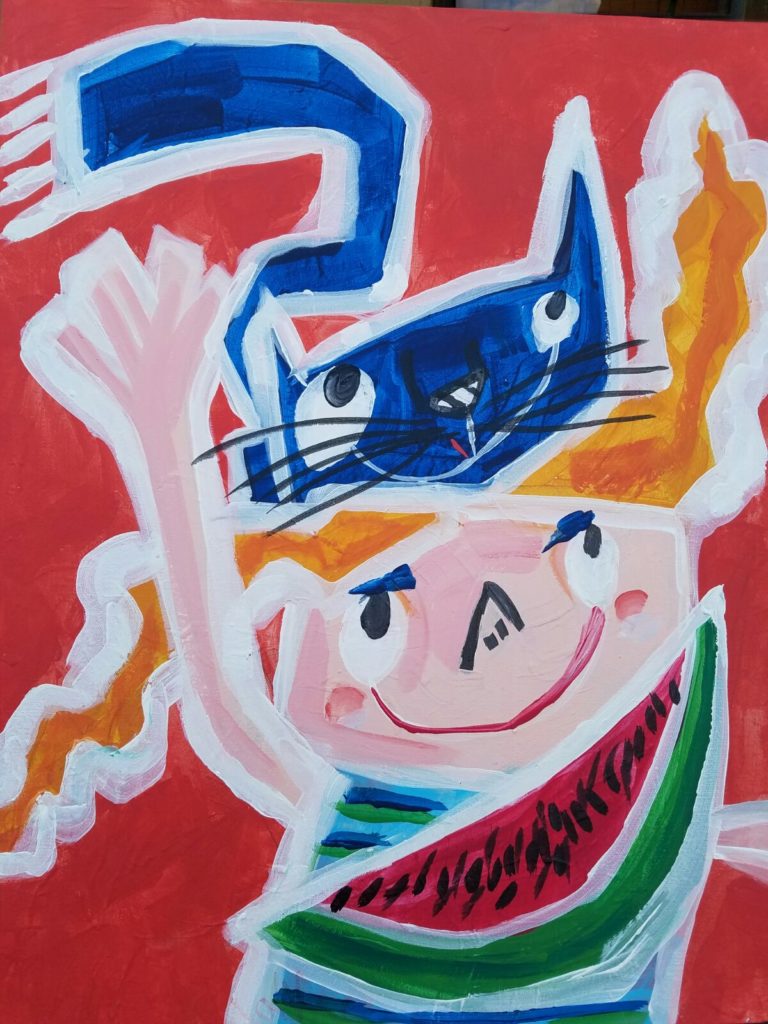 Girl with Smiling Cat
---

Christian's work is featured in Madison House Autism Foundation's new campaign and art show entitled, #Imagine21. To purchase a high-quality reproduction of his work, visit www.imagine21campaign.org. And to learn more about Christian and his work, visit his website at www.artpossibilities.org.
---
AUTHOR AND EDITOR
SHANNON DOTY
DIGITAL MEDIA MANAGER
MADISON HOUSE AUTISM FOUNDATION