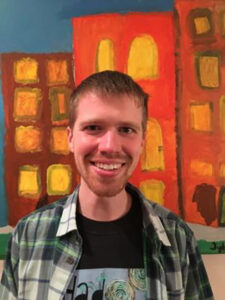 Artist TYLER BELL has been visually oriented since the time he was a young child. Painting provides Tyler, a young artist living with autism, a remarkable level of engagement and peace.
While understanding and generating language can be challenging for Tyler, he is often incredibly funny or uncanny when he does have something to say. He communicates his unique perspective through visual representation. Additionally, Tyler enjoys the sensory experience of the process. His work is free from the boundaries and constructs that often restrain two-dimensional art.
Through his paintings, Tyler communicates and shares his joy, and helps us to remember that not speaking is not the same as having nothing to say. Tyler enjoys the outdoors–skiing, rock climbing, horseback riding and boating are favorite activities–and music moves his soul. He is also proud of his jobs at a craft brewery and a T-Shirt company.
Be sure to follow Tyler on Facebook and check out his work on his website!
Selected Work