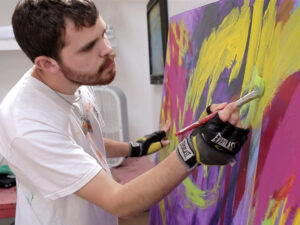 Award-winning artist JEREMY SICILE-KIRA communicates by typing. When he was diagnosed with autism as a young child, his family was given no hope for his future. Nonetheless, Jeremy graduated high school in 2010 at age 21 with a full academic diploma.
Jeremy drew on his experience to co-author a book, A Full Life with Autism (Macmillan). The book's aim is to help others with autism transition to adulthood.
In August 2012, Jeremy began to tell others about his dreams: dreams that he was painting the emotions of people into colorful abstract portraits. Jeremy has synesthesia – he sees emotion as color.
One night Jeremy dreamt about painting ten pieces and holding an art show. Jeremy was encouraged to make this dream come true, and began to paint in real life.
In April 2016, local and national media channels covered his first curated solo art show held in San Diego. The attention resulted in a sold-out show and 24 private commissions. Jeremy is a career artist and meets clients at his art studio in San Diego or via Skype, and then paints their portraits.
Learn more about Jeremy by visiting his website. In addition, you can follow him on Instagram and Facebook.
Selected Work