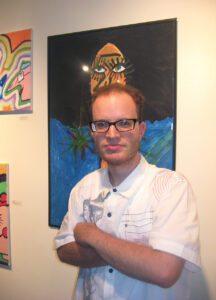 Artist Christian Early was born in Colombia. Although he rarely speaks Spanish and finds typical means of communication challenging, painting provides opportunity for expression.
Painting for this adult with autism did not come easily. Christian began his painting career at 17, starting with simply with awkward lines. Early on, a lack of fine-motor skills prevented Christian from excelling in this visual art.
Nevertheless, with the support of his artistic mother and many teachers, today Christian succeeds in painting how he sees his world: funny and comical with a sense of laughter few of us possess.
Christian's art has evolved into cartoon-like characters that strike a smile: funny and crazy ladies with long arms or pointed fingers, portrayals of himself as Garfield or comic heroes, talking sharks and snails and other colorful humorous creations.
Through his strokes and colors, Christian offers us the privilege of discovering how one autistic man sees the world. His work reminds us that it's not disability that defines a man. What distinguishes Christian from others is his courage to overcome significant barriers in order to harness the ability for self-expression, in spite of a diagnosis or label.
Christian's first book as an illustrator is "Can You See Me? A View of Our World by an Adult with Autism". It's the story of a friendly shark who encounters Christian on the beach. The shark is able to "see" the Christian beyond his label and wonders out loud why human society lacks the same vision.
Christian's paintings and cartoons are also featured in his mother's book, "Diary of a Crazy Woman: One Woman's Fight to Help her Son with Autism Find a Place in the World".
Check out our interview with Christian's mother and browse his work at Fine Art America and Drews Rainbow Art.
Selected Work