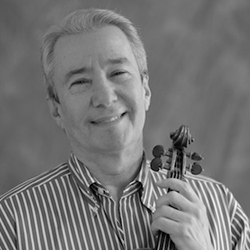 Dr. Daniel Heifetz
Daniel Heifetz is the Founder of the Heifetz International Music Institute. In a career spanning over 30 years, Mr. Heifetz has dedicated himself to the art of communication through performance and education.

Mr. Heifetz is renowned on five continents for his extraordinary virtuosity, profound artistry and charismatic stage presence. His numerous appearances include recitals and solo performances with many of the world's leading orchestras including the Philadelphia, Cleveland, and Berlin. His concert tours have taken him throughout North America, Europe, Asia, and Central and South America.

As an educator, Mr. Heifetz has served as professor of violin at three major universities: The Peabody Conservatory of Music of Johns Hopkins University, Carnegie Mellon University, and the University of Maryland College Park. In addition to these positions, Mr. Heifetz has given master classes all over the world.

Mr. Heifetz has been a powerful force on major television and radio programs.

Mr. Heifetz was a prize-winner in both the Merriweather-Post competition in Washington, D.C. and the International Tchaikovsky Competition in Moscow. An artist who has always possessed a deep social commitment, he stunned the Tchaikovsky Competition officials and Soviet government when he met with Alexander Ginsburg's wife and donated his prize money to the families of jailed dissidents Ginsburg and Scharansky. As a result of this humanitarian gesture, Richard L. Thornburgh, former United States Attorney General and Governor of Pennsylvania, held a state dinner in his honor.

Daniel Heifetz was raised in Southern California and began violin studies at the age of six. At sixteen, Mr. Heifetz became a student of the legendary Efrem Zimbalist at the Curtis Institute of Music in Philadelphia. He was also coached by Jascha Brodsky and, upon Zimbalist's retirement, concluded his studies with renowned pedagogue Ivan Galamian. He made his New York orchestral debut at Avery Fisher Hall in Lincoln Center in a performance of the Tchaikovsky Violin Concerto with the National Symphony Orchestra. Mr. Heifetz was also mentored at the beginning of his career by both the renowned Polish/Mexican violinist Henryk Szeryng who introduced Heifetz into Europe, and the great Russian violinist David Oistrakh.