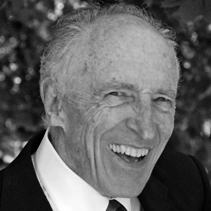 Admiral Paul A. Yost, Jr., USN (Ret.)
A native of St. Petersburg, FL, Admiral Paul Alexander Yost Jr. became the 18th Commandant of the United States Coast Guard on 30 May 1986. He was nominated to that position while serving as Commander of the Atlantic Area, Commander Maritime Defense Zone Atlantic and Commander Third Coast Guard District in New York City where he was assigned in 1984.

Admiral Yost's management and operational positions included Chief of Staff and Chief of Operations for Seventeenth Coast Guard District in Alaska in 1975. He was also Commander, Task Group 115.3, a combat command in Vietnam, in 1969. In addition, he served as Special Assistant to the Deputy Secretary Department of Transportation, and as the alternate delegate on the U.S. Law of the Sea Delegation. In 1974 Yost was Captain of the Port, Seattle. He was also Special Assistant to the Chief Counsel, Coast Guard Headquarters in 1972 and Chief, Bridge Branch, Aids to Navigation Division in 1970. Seagoing duty included command of the Coast Guard Cutter RESOLUTE in San Francisco in 1966.

In addition to his Bachelor of Science degree from the U.S. Coast Guard Academy in 1951, Admiral Yost had a number of other educational achievements. These include two Masters degrees. The first in Mechanical Engineering from the University of Connecticut in 1959, the other in International Affairs from George Washington University, Washington, DC in 1964. He also completed coursework toward a Masters in Business Administration and graduated from the Naval War College in Newport, RI in 1964.

Admiral Yost's awards included two Distinguished Service Medals, the Silver Star, the Legion of Merit Medal with combat "V", with a gold star, the Meritorious Service Medal, the Combat Action Ribbon, the Korean Service Medal, and the United Nations Service Medal. He also received the Cross of Gallantry with Silver Star (RVN), the Presidential Unit Citation, the Navy Meritorious Unit Commendation and the Distinguished Service Medal (RVN).