On June 1, sixteen artists on the autism spectrum showcased their work at the World Folk Music Association Festival in College Park, Maryland, and many of their pieces were purchased at auction. Madison House Autism Foundation congratulates these talented artists and thanks partnering organizations Arts Unbound, Orange, NJ and Make Studio in Baltimore, Maryland. Arts Unbound works to release the creative power of people with disabilities and provides programming for hundreds of talented artists. Make Studio is dedicated to making art inclusive and to putting art and ability to work. For additional information, please contact Lucy Lopez at Madison House Autism Foundation at [email protected].

Dashir Johnson
"I am an artist who happens to be in the autistic spectrum. My artwork focuses on the fact that everyone is beautiful. There is beauty in everything I see and everyone has something to offer. I represent differences and my hope is that the world can see beauty and acceptance through my eyes."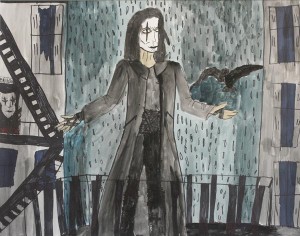 Bess Lumsden
Bess resides in Ruxton, MD. She recently completed the Harbor Horizons college program, and now volunteers doing horticulture work with an order of Catholic Sisters when not engaging in a variety of creative pursuits at Make Studio. She often says she's been making art "all my life!" She especially enjoys costume and set design, Japanese anime, and gothic and magical themes, which predominate in her artwork. She values her own open-minded nature, and an ongoing concern for her is that individuals are too often prejudged by others on their appearance or other preconceived notions. Her "Heroines of Horror" series conveys more than just the macabre, as Bess strives to have viewers see the humor and humanity behind the gore.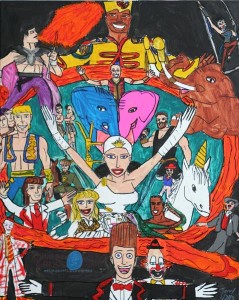 Jerry Williams
Jerry resides in Baltimore, MD, and is employed by McDonald's when not working at Make Studio.  A graduate of the  St. Elizabeth School, he has been a program artist since February of 2010.  Jerry's favorite artistic subjects are Baltimore celebrities, superheroes, WWE, Star Trek, and the circus. He likes to paint and draw but also enjoys creating sculpture using found materials. Outside of his prolific art-making, Jerry keeps busy by attending a wide range of local happenings, ranging from the Baltimore Grand Prix, to Comic-Con, to gallery openings, and is well-known around town for his charming personality and salesmanship.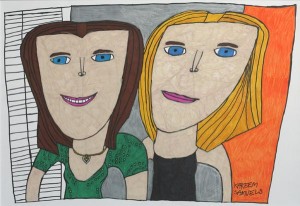 Kareem Samuels
Kareem is a young man on a mission… actually, several missions. Over the past few years, he's embraced a new lifestyle of diet and exercise, and through presentations at his agency, St. Peter's, Kareem has advanced his agenda of educating others about the benefits of healthy living. He is also motivated throughout his life to share a more spiritual message with others. At the studio, he has been experimenting with watercolor, acrylic, and more, to colorfully share the message of his heroic alter ego, "Bible Boy". He says that being part of an art studio community is "my dream come true."
Louis Middleton
With the support of his family, over the last few years Louis has operated his own photo restoration business and has logged a number of satisfied customers in this work. Louis himself has long enjoyed taking his own photographs, and now at Make Studio he is working to advance his computer skills, digitally manipulating photographs and original imagery, while discovering new ways to express himself through painting and drawing. Louis is a devotee of all things retro and 50s, favorites include cars, games shows, restored diners, and Grease. Louis is a graduate of the St. Elizabeth School.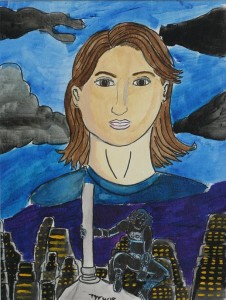 Tyrone Weedon
Tyrone is a native of Baltimore, a graduate of Clifton Eastern High School, and joined Make Studio in 2012. Aside from his main interest, art, he enjoys playing video games, going to the library, doing research on the internet, and spending time with his mother and four sisters.Having first developed his artistic talent in elementary school, Tyrone's work is nowadays strongly influenced by television,cartoons, movies and comic books. As a result, he likes to make work about superheroes, and about people that he sees and dreams up in his imagination.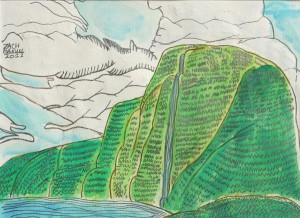 Zach Manuel
A graduate of the Harbor School, Zach joined Make Studio in the summer of 2012, bringing with him a strong interest in comics,animation, and science fiction. A man with many goals in fine and digital art, Zach is currently expanding his artistic repertoire from colored pencils and markers, exposing himself to various media and techniques, drawing his inspiration from animation as well as real life.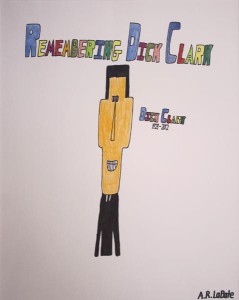 Tony Labate
Even though he's a young man, only in his early 20s, Tony is a reliably expert source of information about classic films, television, and music of the late 20th century (among many other things). Tony is a resident of Catonsville, MD, a recent graduate of the St. Elizabeth School, a current attendee of St. Peter's Adult Learning Center. Also, in his words, "a would-be writer of poetry" who also loves to draw. As a high school student Tony began working with the residents of the Charlestown Retirement Community, who he affectionately refers to as his "oldsters", providing entertaining presentations on topics enjoyed by both Tony and the residents. He hopes to continue this work while also expanding his artistic pursuits at Make Studio.
John J. Hodgson
John Hodgson began creating art in early 2008.  He developed unique painting techniques while working with several art instructors, including his current teacher Baris Gokturk.  John's creative sessions include time spent learning classic brush stroke techniques as well as experimenting with non-traditional tools and methods.  John's work became public in July 2008 with an exhibit at the David M. Hunt Memorial Library.  His work was praised as "compelling", "beautiful", and "bold".  Several of his works are included in private collections in Maryland, New York, New Jersey, and Connecticut. He has many hobbies including running, hiking the Appalachian Trail, traveling, and enjoying the sites and cultural events of New York and Connecticut.  John shows through his work that people on the autism spectrum, like himself, have so much to contribute to their communities.
Scott MacGregor
"Despite living with Asperger's Syndrome, I hold a part-time job and I am currently attending a university in pursuit of a bachelor's degree in fine art. I create very intricate art in a cartoon style which is truly my own. What began as a temporary 12-week program at Arts Unbound in 2007 has turned out to be a life-altering experience for me."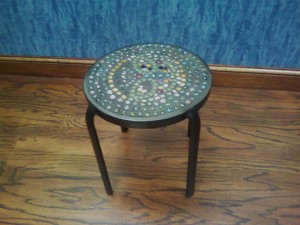 Alex Martin
Alex Martin is 18 years old and a student at Ivymount School in Rockville, MD. He enjoys using his fine motor skills to create art and especially likes beading, weaving, coloring with pastels and applying crystals and mosaics to jewelry. He has a website, alexartloft.org, where he raises money for several causes and partners with local stores, schools and non-profits. Alex is mostly non-verbal and uses an iPod to communicate. However, just because he doesn't talk doesn't mean he has nothing to say. Alex shows people that although he is not considered high functioning, his enthusiasm for work and fine motor skills are helping him gain independence every day. In partnership with businesses in the community, he is hoping to make a difference in the way people on the autism spectrum are viewed.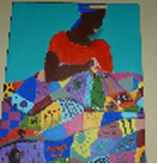 Bradlie Jackson
Bradlie Jackson is an 11th grader at the Sheppard High School in Morristown.  She enjoys painting, singing, music and drama.  Bradlie participate in Arts Unbound's Saturday arts workshop where she has contributed greatly to the production of art in the store.  Through her participation in Arts Unbound programming she has become more confident and has realized the importance of her artistic abilities regardless of her other challenges.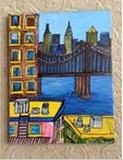 Bruce Jackson
Bruce is a young man who spends many hours alone. He is an only child of a single parent household.  Much of his time is spent creating cartoon characters. Because of his experience with Arts Unbound, he has stepped out of his comfort zone. He is now painting new subjects.  He has learned to take public transportation to class; this helped him gain more independence and freedom. While Bruce has had difficulty managing his anger in the past, he has learned how to share his frustration in a manner that is no longer aggressive.

Colleen Creedon
"… My specialties are painting glass, collage, and acrylic painting. I fought my diagnosis for many years. Art has become a healing part of my life.  It helps me focus and manage my mood and thought disorders.  Thanks to Arts Unbound I am positively engaged in a social network of artists and teaching artists.  My artwork provides me with a source of comfort, creative expression and increases my self-esteem."
Chantee Marie Ricks
Chantee is 17 years old, born in Newark, NJ.  She currently attends Deron II in Montclair, NJ.  Her fondness of art was first noticed at 3 years old but her talent was realized at the age of 7.  She has been a part of Arts Unbound for 3 years now and the program has really helped her to fine tune her skills.  These skills helped her to win 1st  place at the North Jersey Craftsman's Fair for her drawing, an Honorable Mention Award from ASAH Art Contest and Recognition in the Arts Award from VSA Arts of New Jersey.  Chantee also wrote a poem entitled  "Useless", which was selected as high merit and published in the Spring 2010 anthology  "A Celebration of Poets".  Chantee has a very well rounded love of art and The Arts but her passion is the Japanese culture.  She hopes to one day move there and "live forever", she says.
Michelle Gavin
" … I was introduced to Arts Unbound by another artist with the same condition. I was welcomed with open arms, accepted for who I was and never looked at differently. I have been able to continue my love of art by exploring my creativity as an artist, assist with other artists living with disabilities as a Teacher's Assistant with the Saturday morning class and stay connected with others living with disabilities like myself through Arts Unbound."
Reader Interactions