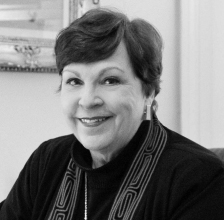 Dr. Kay A. King, Co-Vice Chair
Dr. Kay Atkinson King worked for the U.S. Congress for 25 years. In 2007, she was appointed by Speaker Nancy Pelosi to be the Director of the Office of Interparliamentary Affairs for the U.S. House of Representatives. Focusing on American foreign policy, she coordinated the Speaker's meetings with foreign dignitaries and assisted Members of Congress with official international travel and parliamentary exchanges until she left Capitol Hill in 2010.

Prior to that, from January 2001 – March 14, 2007, Kay was Democratic Senior Policy Advisor for the House Committee on Foreign Affairs and Ranking Democratic Member and Chairman Tom Lantos. From 1991-1995, Kay was the Chief of Staff to Congressman Richard Swett of New Hampshire, and she was a Legislative Assistant and Senior Policy Advisor for Congressman Lantos from 1984-1991 and from 1995 to January 2001. After leaving Capitol Hill, Dr. King was a principal at The Podesta Group (2010-2011), an international advisor to The Congressional Study Groups, and a consultant for the US Association of Former Members of Congress (2011-2012), APCO Worldwide (2013), and Child Safety Network Safe Bus (2014).

Kay received a B.A. from the University of Utah and an M.A. and Ph.D. in linguistics from the University of California at Los Angeles (UCLA). She served as a member of the research staff at Massachusetts Institute of Technology, Harvard University and two of the Max Planck Institutes in Germany. Dr. King has taught at the American University, University of Maryland, New England College, University of Utah, Brigham Young University, and UCLA. Kay was also a visiting professor at the American University in Cairo, and she has published articles in a number of scholarly journals. She serves on a number of boards, including the Lantos Foundation for Human Rights and Justice, and the National Advisory Council of the Marriott School of Management at Brigham Young University.

Kay has received a number of honors, including the Gold Cross of Merit of the Republic of Hungary, and she was the Hungarian American Coalition 2010 National Honoree. She was selected a Stennis Congressional Fellow (2001), a Hinckley Fellow of the Hinckley Institute of Politics at the University of Utah (2007) and was given the Merit of Honor Award by the University of Utah Emeritus Alumni Board (2011). She is listed in Who's Who in America, Who's Who in American Politics, and Who's Who of American Women.

Dr. King is the wife of Ambassador Robert R. King, Special Envoy for North Korea Human Rights, is the mother of three married sons, and has ten grandchildren.